By-Polls; PTI's Barrister Sultan Wins AJK, Unofficial Results Sultan Mahmood Bagged 15485 votes
Muzaffarabad: the Pakistan Tehreek e Insaf's Barrister Sultan Mehmood Chaudhry maintained his victory in the enclave's Legislative Assembly while beating his opponent in by-election.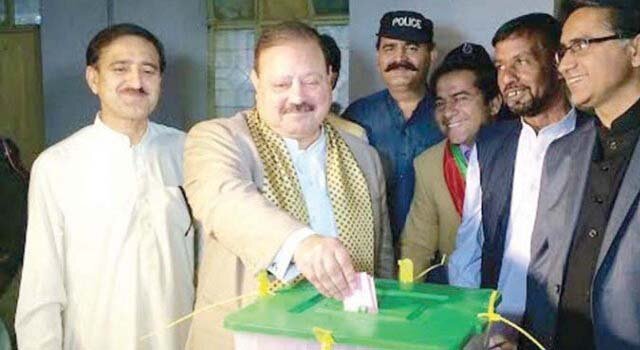 In terms of unofficial results, front-runner the Pakistan Peoples Party's Mr. Chaudhry Ashraf sacked 12,559 votes while his rival Barrister Chaudhry who has won in this ecletion remained successful to achieve 15,485 votes by-election for LA-3 (Mirpur). So, another candidate from Pakistan Muslim League (N) had quitted from the competition because he was in favor of PPP's Ashraf.
The voting at polling stations was being done successfully as well peacefully from 8am to 4pm without any kind of break. About 40% turnout came out from 111 polling stations results but unofficially. To keep the peaceful, more than 2,999 policemen were posted and about 68,815 registered voters are in the constituency.
Barrister Choudhry won the last time the same seat on a Pakistan People's Party and quitted from the Legislative Assembly after linking Imran Khan's PTI.
Because of Pakistan Muslim League's bad ruling the residents of this constituency rejected their supporter who has already quitted from election and voted for Chaudhry who is reportedly will maintained his duties as assembly member of AJK government to serve the people honestly as did in past.
Choudhry felt great joy after winning one more time his seat, and believes his victory is reward his past duties as well great struggles of Pakistan Tehreek e Insaf's mature workers who all did hard work day & night to make my win possible. He also said will work hard to improve the AJK parliamentary system.
The chairperson of PTI, Mr. Imran Khan also congratulated Barrister Chaudhry over his victory.
Khan took Twitter to congrats his party member, "Want to congratulate all Pakistanis. Today PTI exposed Muk Muka Charter in guise of democracy in AJK. Took 2 wickets, PMLN/PPP, with 1 ball,"