Top 10 Most Dangerous Selfies Ever Taken
Selfie has become a popular culture these days. Whenever you go outside on a daily routine, you will probably see one or two individuals taking selfie with their frothy coffee, on a walk in any special part of town or on a vacation. So simply, it is everywhere all the time. It's a simplest tool that comes in handy when you try to capture you and the background without asking someone to take a shot. But to take all these selfies, you need to know the selfie etiquettes. There are some scenarios where it is simply a rude thing to pull your phone and take selfie, irrespective of how good you look. Sometimes, even the people are not annoyed by your act but your own life may be at stake because you don't pay attention to surroundings and things may get worse. But still there are daredevils who love to take selfies at some high top structures. Despite of possible risk, they take things to a whole new daring level. In this article, we will enlist the top 10 most dangerous selfies ever taken. We are anyhow not sure whether it is to be proud of or…?
1). Statue Selfie on the top of Christ the Redeemer
Lee Thompson is the man who you can see in this most dangerous selfie. He is the owner of The Flash Pack, a British adventure travel company. It is quite common that a person who earns his livelihood by running an adventure travel corporation would be a fan of adventures by himself. He persuaded the Brazilian tourism board to allow him to climb this huge statue of Christ the Redeemer. It is a 124 feet tall statue in Rio De Janeiro, Brazil. He designed a team and took almost thirty minutes in order to climb this landmark. Finally, he reached his required position and took this historic selfie with Christ the Redeemer.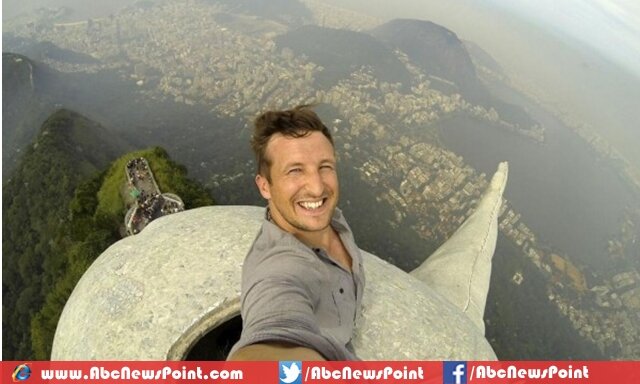 2). 1000 foot skyscraper selfie
It is not just a selfie, but a complete selfie video. This video was published in August. In this selfie video, three teens can be seen at the top of Hong Kong's tallest building which is almost 1135 feet high above the city. Daniel Lau is the videographer who with the help of selfie stick and a wide angle camera lens made this dangerous video while his friends were perching on antenna of building eating bananas. It is anyhow important to tell that his friends are also extreme photographers. So don't try to have this wild experience on your own. Be cautious.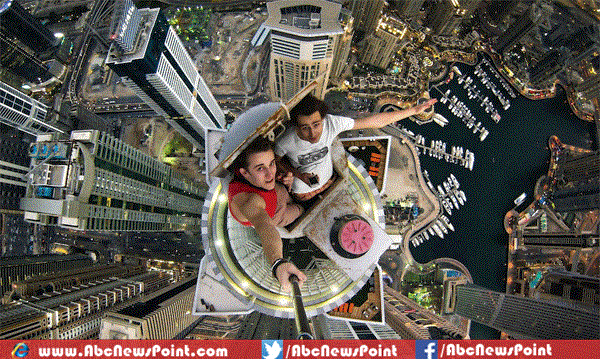 3). Fighter plane selfie
Suppose if you are driving at a speed of hundreds of kilometers in an hour hurtling along the roads. You would surely be strapped down in gear and holding tightly your steering wheel on 10 and 2 o' clock position. Now revise your imagination by a fighter plane flying with multiples of high speed, dashing along the clouds high above from the earth. You probably don't dare to divert your eyes from where they should be positioned. But it is not the case with Royal Danish Air Force Pilot. Taking the dangerous selfies to whole new level, he took this selfie during his flight in fighter plane. The most dangerous part is that he is not assisted with co-pilots. He is driving solo and completely ignoring the rule to keep his eyes on track. In this huge speed, a single wrong throttle could lead to death of the pilot.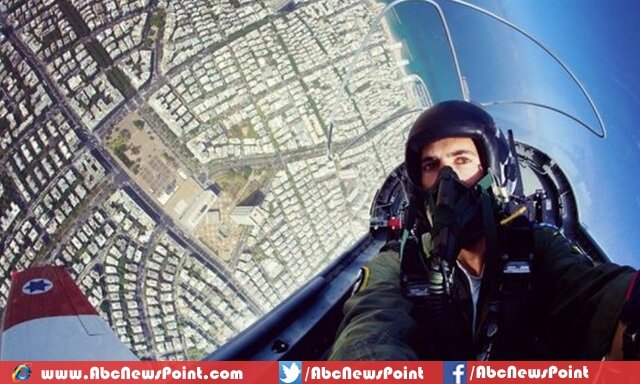 4). Top of Votive Church selfie
Mustang Wanted is a famous stunt performer who is famous for his crazy photos and dangerous selfies. Among all of his dangerous collections, this one is the best. As the picture is taken from above angel so it is difficult to tell what thing he is standing upon. Let us help you in this regard. The photographer is standing on one of the spires that are located on the top of church in Gothic style of architecture. It is at a height of 325 feet in the air. The dangerous thing is that he has his one hand on the camera while with other, he is holding the spire. This fairly thin spire is made up of metal. If it had snapped off, you can imagine the risk to the life of stuntman.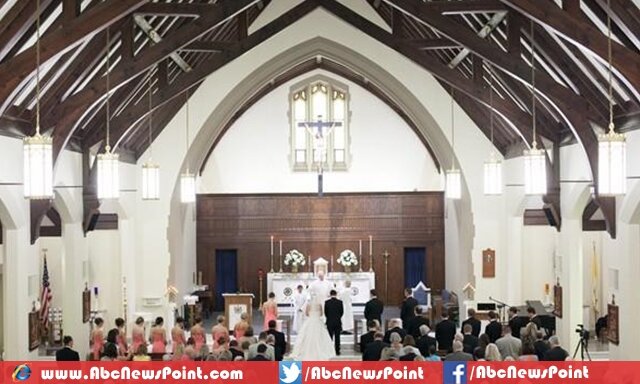 5). The Princess Tower selfie
This selfie was taken by Alexander Remnev who is famous for his stunt photography at skyscrapers. His most famous photo along with his friend is the selfie on top of Princess Tower, Dubai. It is the world's tallest residential building which is 1350 feet high above the ground. The group selfie is itself a risky thing to master. But this guy has taken the double risk to take this group selfie atop this skyscraper. You can judge the height of this tower by other skyscrapers appearing in this picture. Remnev have not used any safety gears and he claims that Dubai is full of many "open" building to climb.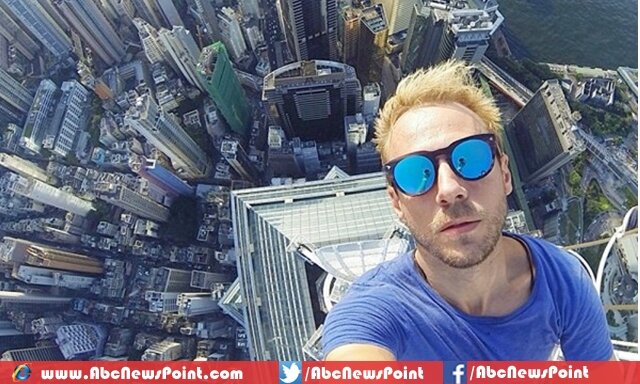 6). Active volcano selfie
Lava is incredible, but from a far distance. The orthodox wisdom advises most people to run away from this fearsome molten rock. But there are some extremists who love to do the things that normal people don't dare to do even in their dreams. George Kourounis posted a pic on his tweeter with the head melting lava. He is wearing the safety suit and carrying the oxygen mask in order to keep himself safe from burning and inhaling carcinogenic gases emitted from lava. Still the level of heat cannot be ignored. The man really did an insane attempt to click this most dangerous selfie at the mouth of bubbling volcano.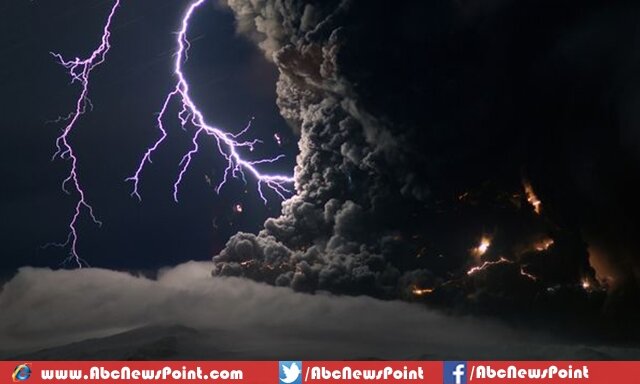 7). Top of a building in Ukraine
Another most dangerous selfie was taken by Yarsolav Seheda. He is a Russian adventurer. Now we definitely expect an adventurer doing such extreme stunts. But doing these stuffs with your friends is the most entertaining thing. To get a perfect selfie, he along with his friend climbed up a tallest tower in Kyiv, Ukraine. They took this inane thumbs-up selfie capturing both of them along with the background. By taking a closer look of the picture, you will come to know that the cars look so tiny. By this, you can simply understand the level of height at which they are doing this stupid thrill. You can also observe his friend who is showing the thumb up sing by holding the big pole. He is trying to mitigate the risk anyhow.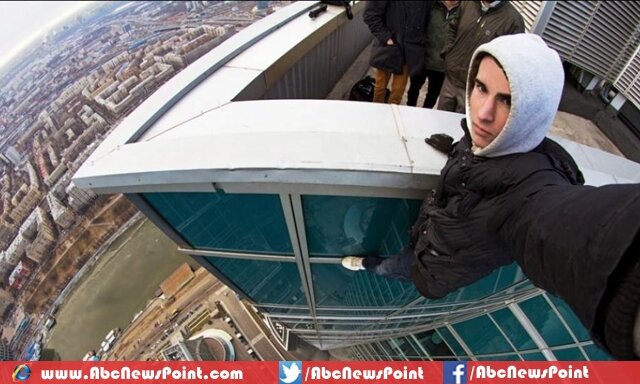 8). Crane selfie in Bangalore
The British free runner James Kingston is famous for his extreme photos. He loves to take dangerous selfies. If danger is not involved, it would not be an inspiration for Kingston. You can explore many of his dangerous selfies available on internet. But this picture is quite unique in its own. That why we have selected it for our list of top 10 most wild selfies. In this picture, Kingston has climbed up some sort of crane erection in Bangalore. With the help of selfie stick and wide angle camera, he has successfully taken this panoramic selfie showing detailed background in the picture. The selfie real worth Kingston's style but we are still considering, how he managed to get down.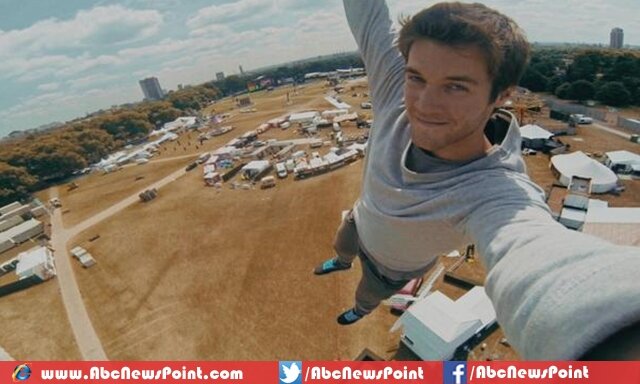 9). Underwater selfie
The ocean is no doubt an incredible place. It is really thrilling when you get a chance to go down the ocean and see a lot of aquatic life swimming in the water. However, you should keep in mind where you fall on the food chain. The man in this shot is all ready for his underwater explorations but while taking this selfie, he didn't spot the huge shark prowling around him in this picture. Yeah, he might be a friendly hulk who might want to phot-bomb this insane human. But at the same time, we can hear the Jaws theme tune and we well know how that ended up. So be careful, don't mess with the giants.
10). Cliff Diving selfie
Water is a fantasy for all the humans living on earth. Of course, they are not aquatic. That's why most of the people may have jumped off some kind of cliff at some time in their life, into the glittery water below. Most of the people try to keep it at fair sensible distance, with cliffs that don't project out furthest, but normally it is once a lifetime sort of experience. Though, when you gather enough courage to do this, you need to exert all your energy into leaping at the farthest distance from the rocks below. There is no need to waste it in trying to get an awesome selfie. However, this lady has seriously done this and we are really appreciating his effort. She perfectly managed to make a fairly decent pose while holding the selfie stick and hurtling through the air. We hope that the photo did not end with a crunch, rather a splash.