Doctors research says Skinny Jeans may be Harmful for Your Health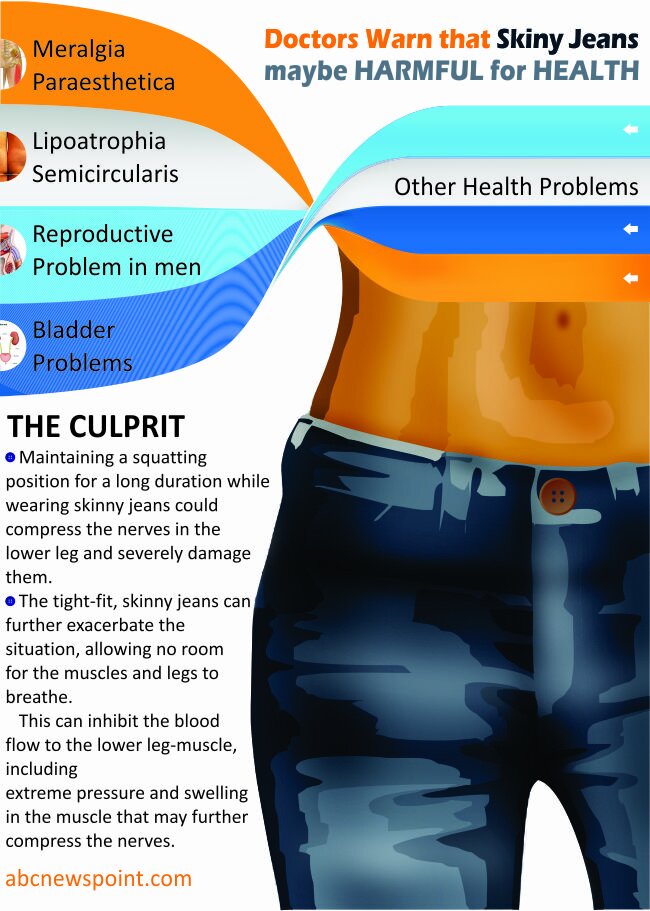 A few years back there came a fashion which revolved around jeans that were skinny. So skinny that one could feel the bare legs of the one who is wearing. Skinny jeans, slim-fit jeans, cigarette pant, pencil or tight pants are some names to similar category.
And even now this fashion does not want to leave it at all. Every now and then, many celebrities are seen wearing a pair of skinny jeans. Celebrities like Emma Stone, Kate Middleton. Now this fashion is something like a part of fashion industry which never takes break or stops.
As opposite to their name skinny jeans are available in all sizes and shapes for everyone to wear casually or for a fancy party of function, and their range of prices is available for everyone according to their budget.
These are the factors that allows skinny jeans to remain in fashion and never to skip out but on the other hand no one thinks about how skinny jeans is affecting their health, how it is injurious for your body. But the doctors have warned everyone about the dangerous characteristics of skinny jeans and explained how they are accountable for moist legs, itching and uneasiness.
The real danger and risks are given below:
A Case Study relating skinny jeans and its affect on health
According to a study that was published in's journal related to Neurology and Neurosurgery, an Australian women aged 35 encountered some health issues and was taken to the hospital for treatment because of wearing very tight pair of skinny jeans.
Later it was found out that she was helping a relative in moving to a new house. While doing this she was wearing skinny jeans and was moving things, was going to crouching position for picking things and placing them and also moving the things around.
As the time went on and the day passes by she started feeling uneasiness, stiff and limiting. And while she was returning to her home at night, she began to feel numbness in her legs and feet mostly the lower part.
Then a time came when she couldn't felt her feet which made impossible for her to walk, but she tried and after some steps she tripped off and feel down
As a result she was not feeling her legs and feet at all. She stayed there lying on the ground for several hours, then was found by someone and was taken to the hospital.
Results and Medical Examination
After reaching the hospital, doctors examined her but before that her legs were that much swollen that the skinny jeans wouldn't come off and had to be cut off to remove them.
On examination doctors discovered that the lower legs were extremely swelled. It causes injuries to the functions of ankles and toes and weakness in the whole lower body.
CT scan results showed that group of nerves called tibial and peroneal nerves were blocked. These nerves provide sense and movement to the whole lower part of the body in order to move them, but those signals were blocked that created numbness and made impossible for to move
The reason why all of this happened is just a pair of tight skinny jeans, if she had worn normal straight jeans then none this would have happened. The main culprit is the skinny jeans.