Pakistan Beat South Africa After Thrilling contest by 29 Runs, ICC World Cup
Twenty-ninth match of world's mega World cup was played between Pakistan and South Africa at Eden Park, Auckland, in which the green shirts hammered rivals by 24 runs while destructive bowling.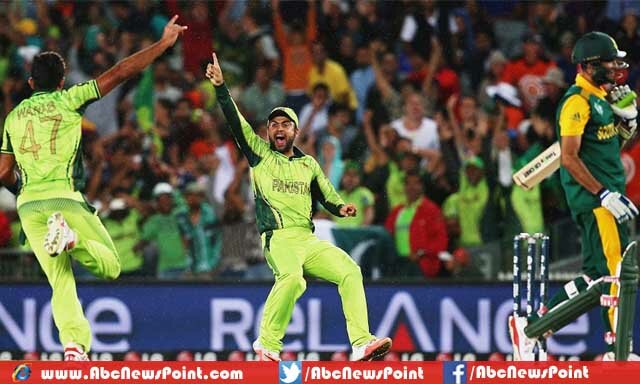 The South African captain AB de Villiers invited opponents to bat first while winning the toss, Green shirts openers Sarfraz Ahmed, Ahmed Shehzad emerged in good form but Ahmed remained unsuccessful to travel more with partner and lost wicket on 18.
However, Sarfraz showed responsibility and performed well while playing a sensible innings against South African attackers, scored 49 on 49 but lost wicket by Miller/†de Kock (run-out).
Pakistani captain Misbah-ul-Haq and his partner Younis Khan came out good scorer as both struggled hard to enhance runs, both appeared a great hurdles in way of toughest bowling of SA.
Steyn bowled Misbah who lost wicket after scoring 56 on 86 balls and Khan collected 37 while losing wicket by de Villiers.
But after Younis and Misbah other batsman couldn't show well piece of responsible batting as Umar Akmal, Shahid Afridi gone back after scoring 22 and Akmal on 13.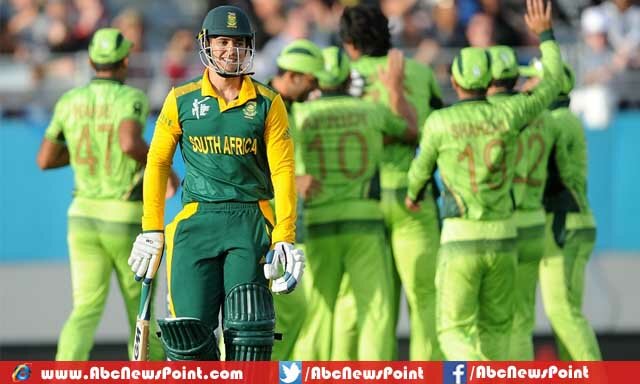 Whole batting line collapsed after playing 46.4 overs as well losing all wickets and created not impressive target of 222 runs which was signifying towards their definite defeat.
South African done outstanding bowling as Dale Steyn took 3 wickets and Kyle Abbott, Morne Morkel got 2, 2 wickets.
Here come South African openers Quinton de Kock, Hashim Amla to chase the minor target but something went wrong, de Kock remained unlucky who couldn't defend Mohammad Irfan's destructive attack and lost wicket—facing two balls scoring 0.
Hashim had defended well attackers and stayed at wicket for minutes but couldn't travel more and went back after collecting 38 on 27 balls, Faf du Plessis also remained unsuccessful as bowled Rahat Ali.
But AB de Villiers was only one who fought till end of the innings and gone back after losing his wicket on 77 on 58 balls. Not any other couldn't stormed Pakistani attackers and lost the match.
Rahat Ali, Mohammad Irfan was key of the success who kicked out 3, 3 opponent batsmen and help his team to name victorys.