Top 10 List Best Honeymoon Destinations in the World
Honeymoon is most anticipated and probable journey for any couple after wedding, the duo wants to spend some time with each other without any interruption. Honeymoon is also significant for newly married to understand them and realize each other comfortably and happily.
Honeymooners try to make their honeymoon trip most excited and memorable moments of their life, they don't want to forget. The place or destination of honeymoon is always difficult because some people didn't have any idea about the best places in the world which should be considered while taking decision about their one of most significant tour. We tried to make it easy for you by listing top ten best Honeymoon destinations in the world below.
10. The Bahamas, Caribbean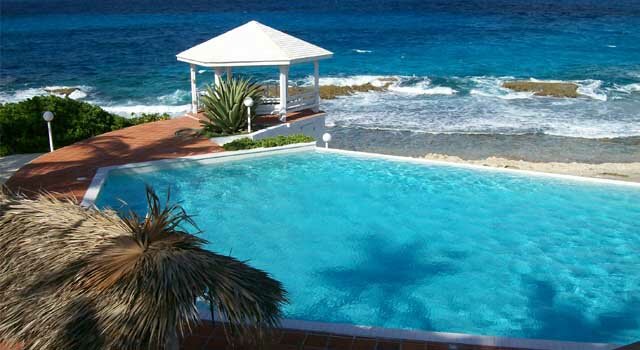 The Bahamas comprised of 30 tropical islands of sugar-white sands and warm, clear waters that are perfect for swimming, snorkeling, sailing and fishing.
The destination has been considered as one of the best honeymoon destination in the world following its glamorous powder-white beaches and romantic secluded beaches like famous pink-hued sand beaches of Eleuthera, Harbour Island, Exuma, Paradise, New Providence and Grand Bahama Island. There are number of exclusive resorts are available which are just ideal for choosing it as honeymoon destination or romantic access with partner.
9. Cancun, Mexico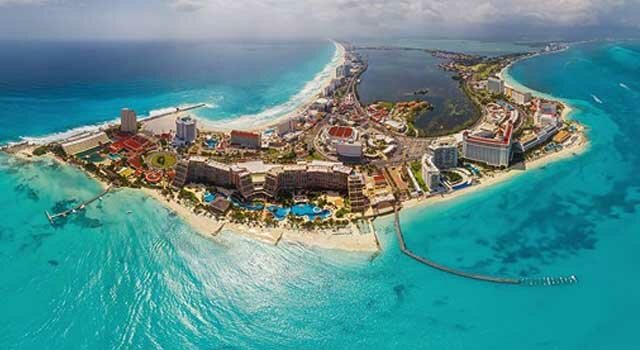 Renowned tourist destination Cancun located on the northeast coast of the Yucatán Peninsula is great option for honeymoon having stunning white-sand beaches, comfy beachfront hotels and stimulating nightlife.
Some of most brilliant dreamy places for a couple during honeymoon include Nichupté lagoon, elegant Tulum beach, chic Playa del Carmen, and Mayan fortress. Cancun has been listed in top best honeymoon destinations in the world where a duo can spent the most idealistic and imaginative time of their life.
8. The Cook Islands

Cook Islands, comprises of 15 islands, is an island country in the South Pacific Ocean in New Zealand, added in the list of top ten best honeymoon destinations in the world. It should be considered while a pair is planning about to spend the special event of their life in very romantic and stunning place around the world. Rarotonga, Aitutaki and 'Atiu are most visited island in The Cook Islands which offers wide range of accommodation and resorts to stay and enjoy the most imperative part of life while perfect time to trip for island country is months of September and October.
7. Fiji Islands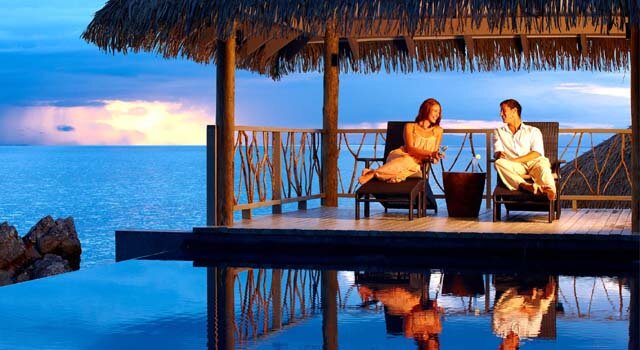 The honeymoon couples long time favorite Fiji Islands is a Melanesian country, which offers exclusive packages for newly married couples to feel sugar-white beaches, intimate life and warm tropical breezes during tour. Having over 300 tropical islands following excellent range of resorts and outdoor activities, it has been wonderful choice, enlisted in the best honeymoon destinations in the world.
There are many places to see including Mamanuca Islands, highlands of Viti Levu, Bouma National Heritage Park and Frigate Passage on Beqa Island.
6. Bali, Indonesia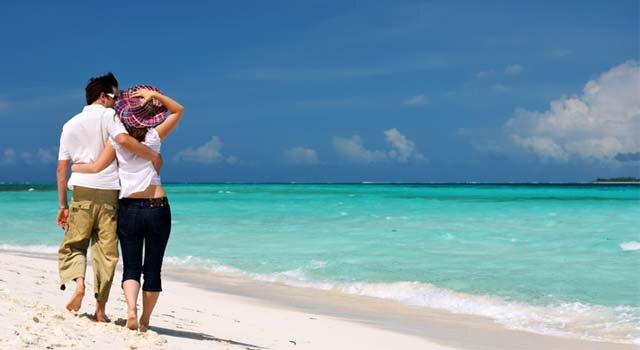 The province of Indonesia, Bali, is one of most exotic destination in Asia, is also one of best honeymoon destination in the world for its rich ancient culture and climate.
The Island can be best considered in dry season from Aril to September as it these sunny and dry days Bali has warm, humid and tropical weather to spend the days of honeymoon. Bali has wide collection of resorts to welcome the tourist such as of Legion, Jimbaran Bay, Nusa Dua, Seminyak, Kuta and Sanur which are considerably the best one it offers.
5. Mauritius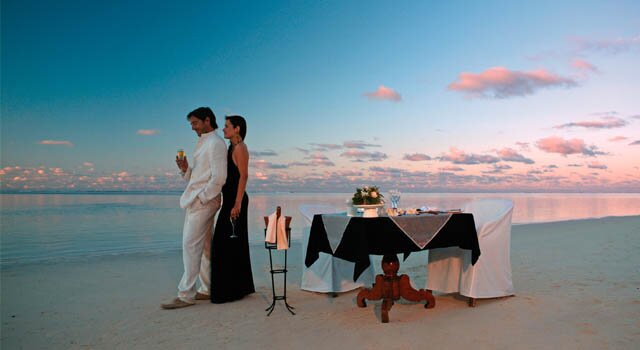 The island nation in the Indian Ocean Mauritius best known by The Pearl of the Indian Ocean, popular destination for its natural beauty and endless tropical white beaches. The honeymoon couple has to visit places includes Black River Gorges National Park, The Seven Coloured Earths, Montagne du Lion at Grand Port and Belle Mare and makes their trip outstanding and unforgettable.
The tropical island paradise of Mauritius accommodates its customers with numerous 5-star resorts, named in the list of top best honeymoon destinations in the world.
4. Maui, Hawaii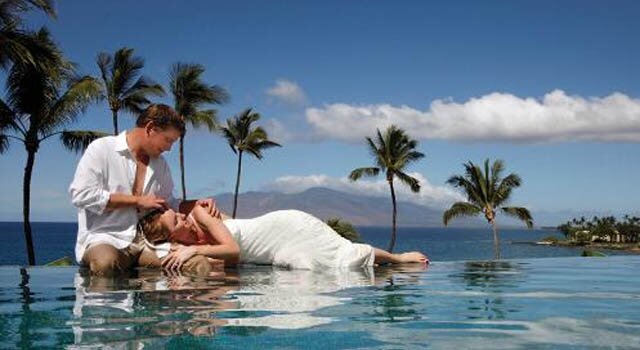 Maui is largest island of Maui County's four islands, has different big spots for couples like Haleakalā National Park, Iao Valley, Lahaina, and Hāna Highway. Flourishing tropical rainforest, craggy volcanic peaks, eye-catching waterfalls, and incredible collection of honeymoon resort with amazing packages enrolled it in the list of top best honeymoon destinations in the world.
The trip for Maui can be arranged any time in the year because it all hour shinny day made it elite and ideal location for honeymoon couples.
3. The Seychelles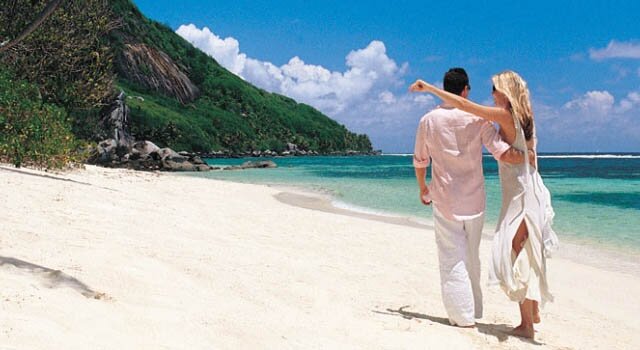 One of the last paradises on earth Seychelles has retained its charm and fascination for a long time since 100 years ago, is added in the list of top best honeymoon destinations in the world.
The newlyweds can enjoyed the special time of their lives by visiting alluring white sand beaches, natural creations and amazing tropical warm water. Several dramatic locations to choose for tour are La Digue Island, Praslin Island, Vallée de Mai among others which have been accommodated with luxurious and comfy resorts.
2. The Maldives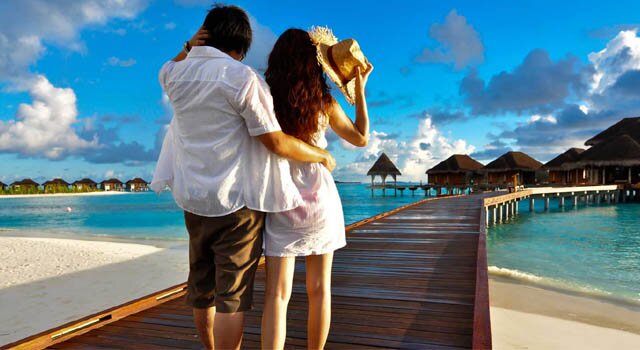 In Indian Ocean Island nation Maldives is best destination for honeymooners to spend the special eve, also famous for surfing, windsurfing, and fishing and kayaking. Having rich collection of attractive sites and striking locations it has been enlisted in the top best honey moon destination is the world.
From December to April is considered as best time to visit the Maldives Island following remarkable climate and intimate tropical water. For adventurous couples there number of outdoor activities like snorkeling, swimming and kayaking.
1. Bora Bora, Tahiti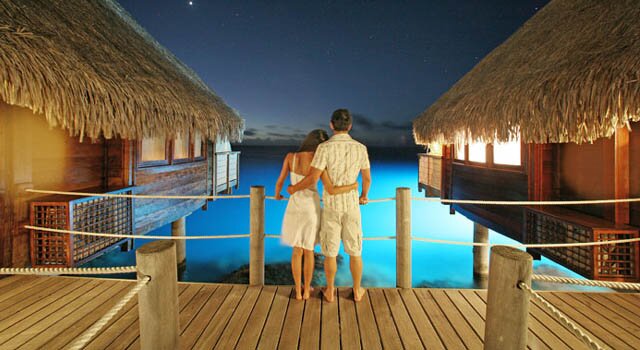 The most popular, famous and favorite honeymoon destination Bora Bora is an island in the Leeward group, is also one of most exotic location ever. The place is famous for its luxurious resorts and gorgeous palm-fringed sugar-white beaches which offers a unique experience for newlywed couples, enrolled in the list of best honeymoon destinations in the world.
Scuba dive Tupitipiti, black Tahitian pearl, St. Regis Bora Bora Resort and Bora Bora Lagoon Resort are some of terrific points for making the honeymoon event exceptional.