40 Heads Of State Joins Paris Millions March, Express Solidarity With France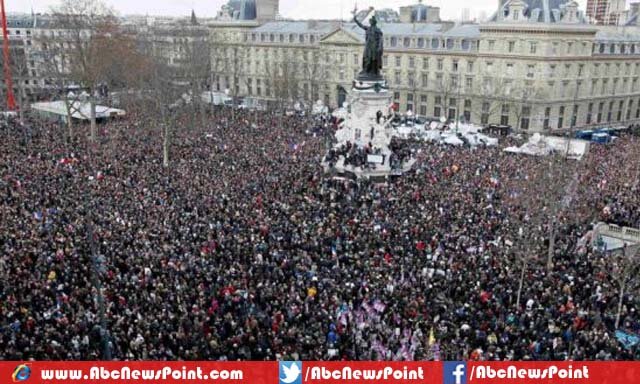 Paris: Millions have participated the rallies staged across country, more than 40 Heads of States have joined French President Francois Hollande in Paris.
Foreign media reported that massive crowd gathered between two of the capital's major plazas, Place de la Republique and Place de la Nation, against Paris attacks and show unity for terrorism war in the country.
According to reports nearly 4 million people remained ouside for hours while more than 40 Heads of States have joined the French President Francois Hollande in the main rally in Paris including German chancellor Angela Merkel, the Palestinian leader Mahmoud Abbas, Malian President Ibrahim Boubacar Keita.
The other leaders participated in the rally to express soledeirty with France republic, Israeli Prime Minister Benjamin Netanyahu, Palestinian President Mahmoud Abbas and Russian Foreign Minister Sergei Lavrov. U.S. Ambassador to France Jane Hartley were there with French president.
Rally participants hold banners and placards on written texts in solidarity with victims of terrorism in their hands following Charlie Hebdo shooting, the muslim officer Ahmed Merabat killed in the attch has also been tributed by people through 'Je Suis Ahmed'.