India Scored 307, South Africa Trying to Chase as Batting Going on ICC World Cup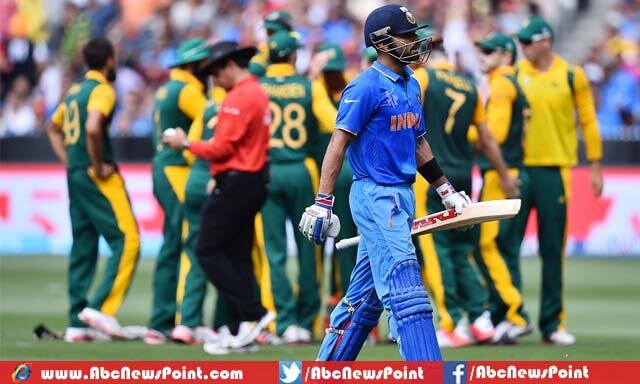 After winning the toss, Indian captain Mahendra Singh Dhoni decided to bat first against South Africans in thirteenth-match of Pool B which is being played at Melbourne Cricket Ground.
The Indian batsmen stormed South African bowlers and while hitting hard all of them, gave highest target to rivals as 307 at 7 seven wickets loss.
One the talented openers of India Rohit Sharma couldn't stay wicket and became run out by de Villiers in start of game, though Shikhar Dhawan and Virat Kohli remained successful to overcome the situation while hitting hard South African bowlers as Dhawan scored 137 on 146 as well as 16 4s and Indian batting machine Kohli 46 on 60.
One more talented cricket star of India Ajinkya Rahane showed responsible play, and played fastest innings with 79 on 60, otherwise not any other can perform well. Indian has finished their innings and gave the good fighting score 307 at 7 seven wickets loss to rivals.
Morne Morkel, Dale Steyn and Jean-Paul Duminy demonstrated not bad bowling but couldn't stop Indian to achieve more runs— Morkel was only one who took 2 wickets.
Hashim Amla, Quinton de Kock came out not good openers today, Amla lost his wicket by MM Sharma after scoring 22 on 28 and de Kock went back pavilion after 7.
Faf du Plessis and AB de Villiers carrying the score to make possible victory in today's match. De Villiers playing at 20 on 26 balls and du Plessis 26 on 43 and 18.4 overs' game has done till now.