Kourtney Kardashian Shares her Picture Pumping Breast Milk into Containers
O my God! Kardshaians- Jenner's sexiest acts stun everyone as these gorgeous ladies every times come out with new racy glimpse on internet and hence remained successful to addict millions to them and every fan of them doing waiting for their upcoming indecent act.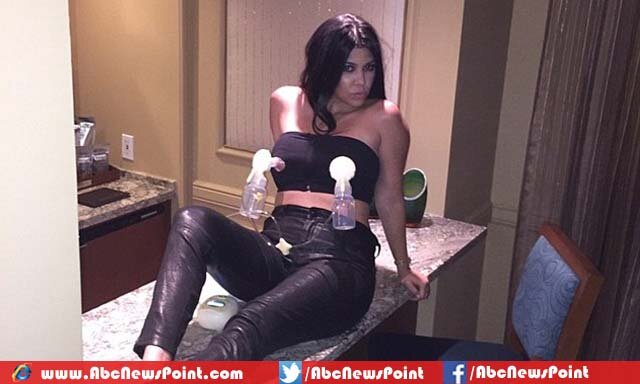 The reality star of 'Keeping Up with the Kardashians' stirred up her fans after sharing her photograph by pumping her breast milk into containers on Instagram.
The sexiest reality has turned 36 as celebrated her birthday bash with friends and family members at night in Las Vegas on Saturday, coming out by taking caring of her months old third child with Disick.
Barefaced lady took her Instagram to share her pumping breast milk photo, in which appears posing temptingly with both parts of breast by attaching to her chest to containers, early hours on Sunday.
The mother of three cutest babies as Mason Dash Disick, Penelope Scotland and shono mono Reign Aston, whom welcomed by Kourtney alongside partner Scott Disick months ago.
Kourtney looks as caring about her three children as many times has proved her carelessness while taking care of them.
In this snap, the raven-haired beauty shows herself sporting tight black leather trousers by leaning back on grey-printed benchtop, pumped her bosom into containers.
Glamorous daughter of Kris Janner sexiest photo in which she challenged camera eye to capture her barefaced attack, captioned with image, "What happens in Vegas stays in Vegas."
But her fans asking question that the whole act was seen in this photograph, was it real? In this image she avoids showing her nudity and almost kept covered her with black strapless bra. She appeared to be that joking with her fans.
Kourtney was spotted in her birthday bash by showing off silky-slim stunning legs joined party with partner Disick.