Madonna & Taylor Swift Stuns Audience at iHeartRadio Awards With Performance
Turn of yours gorgeous Taylor Swift, as sacked an Artist of the Year at the iHeartRadio Music Awards on March 29 and ceremony was held at The Shrine Auditorium in Los Angeles.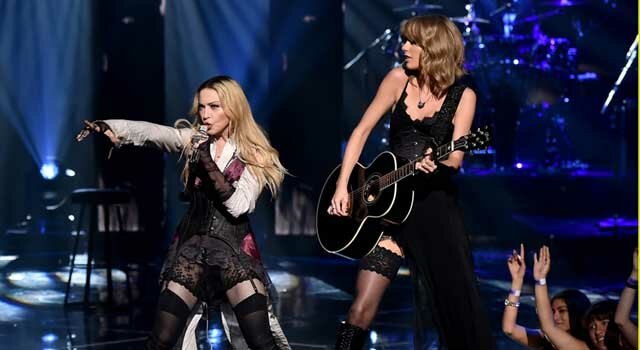 She also entertained well with Madonna when both appeared together to perform on hot floor that night.
Anyone has no idea that Madonna and Taylor will sizzle at ceremony of iHeartRadio Awards while singing 'Ghosttown' and we're 'hung up' but when they appeared everyone was shocked and enjoyed a lot there fabulous rendition.
The audience was shocked when Princess of pop Taylor Swift and legendry pop star who called Queen of pop Madonna have stunned when turned on at the Shrine Auditorium in L.A. at the iHeartRadio Awards but Madonna's 'Ghosttown' wouldn't be forget ever because it was performed with tremendous energy.
Nobody thought about that 25-year-old Taylor will play the guitar for legendry star Madonna but it's pleasure for her.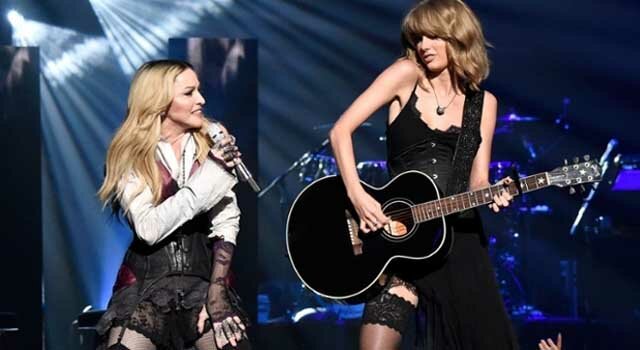 Both hottest ladies remained successful when they performed Madonna's soulful ballad 'Ghosttown' drowned in depth of rest because that evergreen melody sprinkled magic of outstanding notes.
The praiseworthy rendition was only witness of Madonna's powerful vocals because she sang like a young vocalist with massive as well complete energy what required at night and Taylors played admirable guitar which cannot be removed from fans heart.
American youngest actor Cameron Dallas also froze after watching their rocking rendition and took Twitter to post Madonna and Taylor photograph with lots of praise.
If it would say that iHeartRadio Awards floor was created on for 56-year-old Madonna and her collaborator Taylor as they already set all to rock on the stage.
Their sexiest kinds of dress were also being praised by the audience who all went insane after facing two bombshells.