Top 10 List of Best Hottest and Successful Indian Models
India is very rich country having hottest and beautiful models following their sexy appearance, talent, hard work and stunning hot figure. Modeling is truly a challenging field and to survive is very difficult especially in India where numerous models are available and ready to compete.
However, the models that have great appeal, gorgeous look and keen to work as models have very bright and successful career and can easily become famous and prominent in Indian showbiz industry. The list of top Indian models is too long and cannot be ranked easily by an individual so; we consider a list top ten hottest and successful Indian models below for you.
10: Noyonika Chatterjee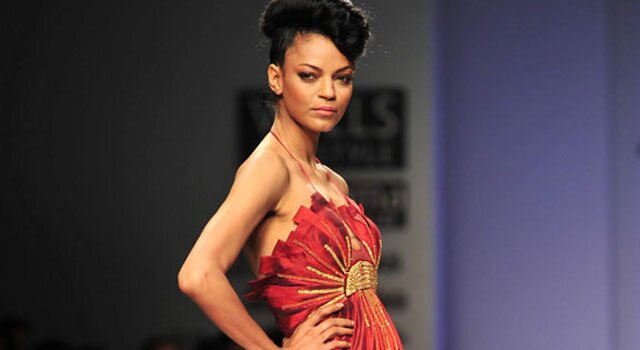 Noyonika Chatterjee is one of the top models in India who just focused on modeling despite of starring in films or even commercials. The ramp model is famous for her dazzling skin color, grayish looks worked for almost all top fashion designers in India including Tarun Tahiliani, Shahab Durazi, Rohit Khosla, Rohit Bal and Hemant Trevedi. Noyonika is also a leading choreographer who also known as India's Naomi Campbell who has been added in the list of top hottest and successful Indian models.
9: Carol Gracias

The Indian model Carol Gracias was born on 28 December 1978 and started her modeling career along with appearance in songs and albums. Carol has no doubt appealing figure and attractive physique the prime requirement for being a successful model, the sizzling appearance on ramp made her popular in India. Carol Gracias has listed in top hottest and successful Indian models for her victories modeling life in India, considered as top leading models all over India.
8: Nethra Raghuraman

Born on 29 November 1976 Nethra Raghuraman is another top ranked Indian model who has been enrolled in our list of top hottest and successful Indian models. The winner of popular Indian adventure show Khataron Ke Khiladi has also worked in local Indian movies in which her notable includes Thakshak, Tum Ho Na and Husn – Love and Betrayal. The stunning geeky look and striking toned body helped her to become the top leading models in India.
7: Nina Manuel

The multifaceted lady Nina Manuel is an Indian model who has been walked for top Indian ramps and contracts with top Indian brands like Coca-Cola, The Indian Express, Lawman Jeans, Levi's,San Miguel, Bausch & Lomb and Kodak. The model has also television and hosting career including Nina at 9, Midnite Manuel and Late Night V are some of show she hosted while her incredible sharper looks made her famous everywhere in India, also succeeded to add herself in list of top hottest and successful models in India.
6: Sheetal Mallar

Sheetal Mallar is one of leading models in India following her passion to be a successful model, won the Elite Look of the Year and Femina Look of the Year. Sheetal is named in the list of top hottest and successful model in India for her sexiest figure and eye-catching looks through that she also gained popularity in India nationwide. Starting from her first shoot for Danabhai Jewellers Sheetal is now face of Maybelline cosmetics while also modeled for top rated brands in the world like Armani and Fendi.
5: Sandali Sinha

Sandali Sinha in as Indian model and actress who has gained prominence with Tum Bin while her appearance Sonu Nigam music video titled Deewana was also well appreciated. The brown eye girl is one of hottest and successful Indian actress for her innocent and elegant good looks remained in public eye for modeling and often seen with her dashing and astonishing body. Despite of her debut film success she has not been offered for any Bollywood venture but still has a successful showbiz life.
4: Ujjwala Raut

Ujjwala Raut was born on June 11, 1978 has various accolades under her belt as she Femina Look of the Year in age of 17, also one of stands among India's most successful super models. Ujjwala has walked for many fashion shows including Hugo Boss, Valentino, Dolce & Gabbana, Gucci, Betsey Johnson, Victoria's Secret, Oscar de la Renta and Emilio Pucci. Throughout being promising to her modeling career Raut has enlisted in the top hottest and successful Indian models.
3: Namrata Barua

Namrata Barua is an anchor,model and interior designer as well, who has been ramped for various top rated brands and became one of leading Indian model. Namrata is enrolled in the list of top hottest and successful Indian models ever as she is undoubtedly carries a hot and sexy figure which garnered fame for her in modeling field. Namrata is smart, determined and stylish receptionist some of most famous ad campaigns includes De Beers, VIP, Mescos, Limca and Organics.
2: Shonali Rosario

The top ranked international model from Indian side Shonali Rosario is another hottest and successful Indian model that featured for top designers of Bangalore and Delhi while also walked for various high-profile brands. Shonali Rosario worked for frequent ad campaigns which boost her modeling career and added it in the list of popular models in India like her titan ads has been published in various worldwide magazines like Queen, Harpers and Vogue. The black haired beauty, 38 has amazing attention-grabbing physique which moved her on road of success.
1: Gauhar Khan

Indian top rated super model Gauhar Khan was also appeared in many music videos including Nasha Nasha, Parda Parda, Jhalla Walla and Chokra Jawaan. The winner of most popular Indian reality show Bigg Boss 7 also hosted her own reality show along with her sister titled The Khan Sisters. The model is well known celebrity all over India and grabbed the top position in list of top hottest and successful Indian models having many endorsement deals and work during her modeling life till now while she also considered as an active participant of humanitarian efforts in India.