Top 10 Most Amazing Bridges in the World
A bridge can be defined as the physical structure use to connect two sites having physical obstacles like water, valley, or road while in urban areas the bridge can fasten the transport by providing distinct ways to traffic.
There are different designs of bridges have been constructed for special use and situations, the design of bridges solely depends on the function of bridge, nature of territory, available resources and material used to built the bridge.
Various amazing bridges exist in the world which views are just exceptional and exclusively panoramic, gave striking and thrilling experience while standing on the bridge. Here we have enrolled top ten most amazing bridges in the world below for you:
10: Pont du Gard Aqueduct (France)
The ancient Roman aqueduct bridge Pont du Gard Aqueduct is placed in Vers-Pont-du-Gard near Remoulins of southern France. The highest of all Roman aqueduct bridges crosses the Gardon River built in the 1st century AD has three tiers of arches at height of 48.8 m. Pont du Gard Aqueduct bridges has underwent to series of renovation between 18 century to 21st century and became the an important tourist destination, added to UNESCO's list of World Heritage Sites following its historical background.
9: Tower Bridge (England)
Tower Bridge crosses the River Thames, consist of two bridge towers tied together at the upper level by two horizontal walkways. The bridge is standing at the height of 65 meters having length 244 meters, very close to Tower of London, has two massive piers which contains nearly seventy thousands tons of concrete. The bridge is on the eastern boundary of the London congestion charge zone and is on London Inner Ring Road. According to an estimated more than 40,000 people including motorists, cyclists and pedestrians crossed the bridges every day.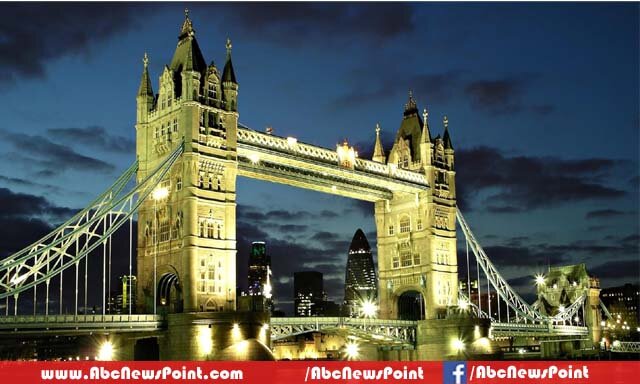 8: Nanpu Bridge (China)
Nanpu Bridge is one of the main bridges in Shanghai and one of most complicated construction from architectures and engineers making it one of most amazing bridge in all over world. Nanpu Bridge has been designed by the Shanghai Urban Construction College, Shanghai Municipal Engineering Design Institute, and Shanghai Urban Construction Design Institute under support from Holger S. Svensson. World's 57th longest cable-stayed bridge has total length of 760 meters while covers longest span of 423 meters.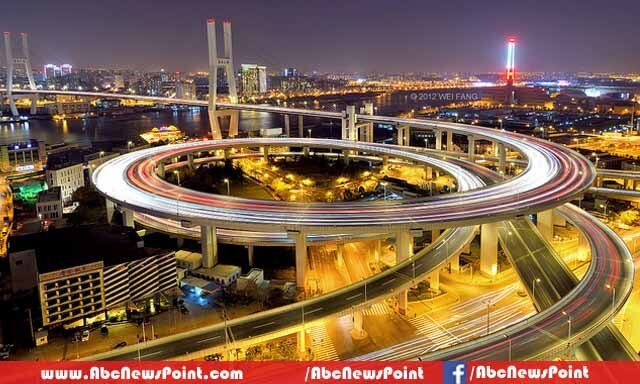 7: Akashi-Kaikyō Bridge (Japan)
The Akashi Kaikyō Bridge connected Japanese city of Kobe on the mainland of Honshu to Iwaya on Awaji Island, having the longest central span of any suspension bridge all over world. Known as Pearl Bridge it has been designed by famous engineer Satoshi Kashima while its construction has been completed in ten years approximately from 1988 to 1998. Akashi-Kaikyō Bridge has total length of 3,911 meters with the longest central span of 1,991 meters standing on height of 1,991 meters.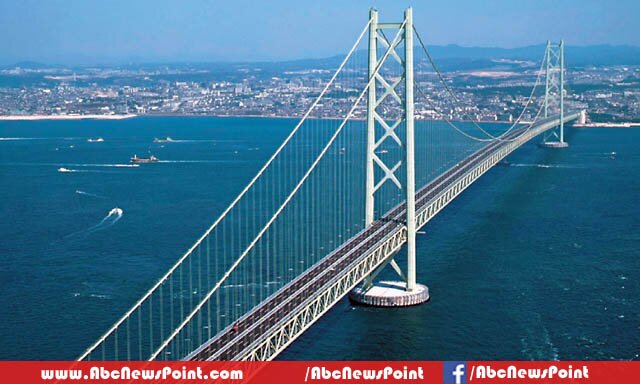 6: Brooklyn Bridge (United States)
One of oldest bridges in United States Brooklyn Bridge is an amalgam cable stayed-suspension bridge in New York City links the boroughs of Manhattan and Brooklyn. Brooklyn Bridge crosses the East River 84.3 m from mean water level with the total length of 1,825.4 meters following longest span of 486.3 meters. Brooklyn Bridge has been constructed 131 years ago under supervision of German immigrant designer John Augustus Roebling which has crossed by more than 123,781 people every day.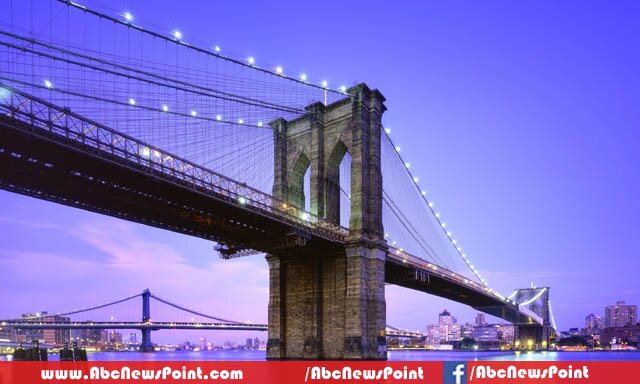 5: Tsing Ma Bridge (China)
World ninth-longest span suspension bridge Tsing Ma Bridge carries both road and rail traffic having largest span of 1,377 meters at a height of 206 meters making it largest among all other bridges in the world for rail traffic. Designed by Mott MacDonald the bridge has completed its construction in five year and opened for the month of April in 1997, inaugurated by British Prime Minister Margaret Thatcher of that time. Tsing Ma Bridge connects the Tsing Yi Island on the east to Ma Wan Island on the west over Ma Wan Channel.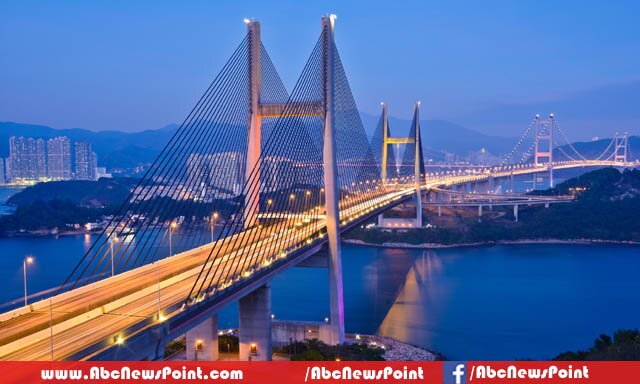 4: Gateshead Millennium Bridge (England)
The pedestrian and cyclist tilt Gateshead Millennium Bridge crosses the River Tyne between Gateshead's Quays arts quarter and Quayside of Newcastle upon Tyne in England. The bridge has frequently called Blinking Eye Bridgeor the Winking Eye Bridge following its shape and its tilting method while it has the sixteenth tallest structure in the city. Volker Stevin constructed Gateshead Millennium Bridge was funded by Millennium Commission and European Regional Development Fund costing nearly £22m.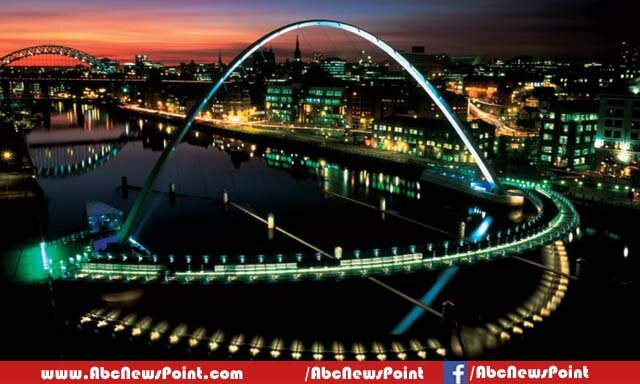 3: Ponte Vecchio (Italy)
The Ponte Vecchio Bridge is a medieval stone closed-spandrel segmental arch bridge spanning the Arno River connects the Palazzo Vecchio with the Palazzo Pitti. One of historical bridge in Europe following the rich history to the time of the Romans, it has height of 30 metres approximately while added in the list of most amazing bridges in the world. The bridge has also known for various shops of jewelers, art dealers and souvenir sellers along the Ponte Vecchio.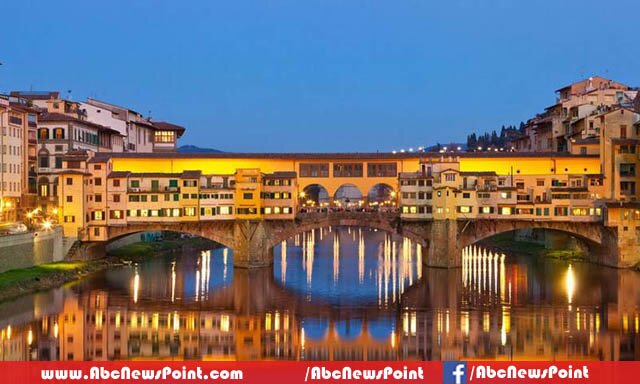 2: Sydney Harbour Bridge (Australia)
The Sydney Harbour Bridge also known as The Coathanger is truly amazing and excellent construction by British firm Dorman Long and Co Ltd of Middlesbrough. The tallest steel arch bridge crosses Port Jackson and gave dramatic and eye-catching panoramic views from Sydney Opera House, having longest span of 503 meters following the total length of 1,149 meters. In 1923 the construction of Sydney Harbour Bridge has began and completed in 1932 named as the widest long-span bridge and sixth longest spanning bridge in the world.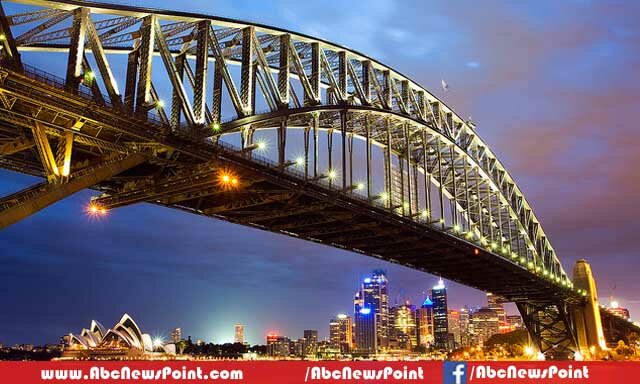 1: Golden Gate Bridge (United States)
Golden Gate Bridge links the American city San Francisco to Marin County by spanning the Golden Gate strait became the most famous across world and recognized symbol for California and United States as well. Golden Gate Bridge has total length of 2,737.4 meters and longest span of 1,280.2 meters making it World's longest suspension bridge main span. Joseph Strauss, Irving Morrow, and Charles Ellis designed bridge was built in nearly four and half year's duration which has crossed by more than 110,000 people on daily basis.