Blasts Hit at Kurdish Opposition Rally Kills Two in Turkey, Injures 100
Diyarbakir: Two people have been killed in 2 successive explosions at Kurdish party rally in south-east Turkey that also injured more than 100 people on Friday just two days ahead of legislative elections.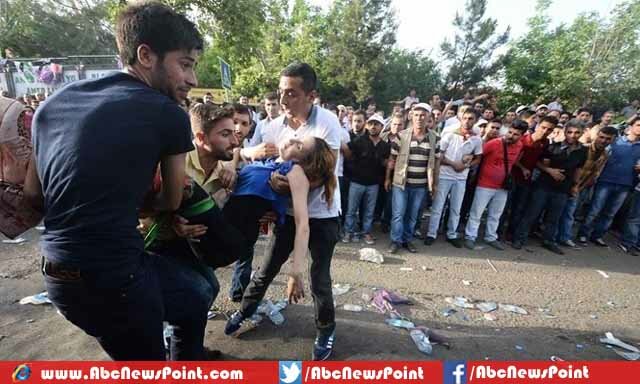 According to foreign news agency two blasts hit the election rally of Peoples' Democratic Party in Diyarbakir that killed two while nearly hundred were injured in these explosions on Friday when tens of thousands people were there to attend the pro-Kurdish rally ahead to elections on Sunday.
Turkish President Recep Tayyip Erdogan described explosions as provocation to harm peace purposed to subvert upcoming elections while HDP leader Selahattin Demirtas asked for calm to protestors saying that cause of blasts was still unclear, not to give in to provocation and be careful.
Security forces have stated that there was one blast but later said that there were two blast that were exploded five minutes apart which killed two at scene while most of were wounded severally, admitted into nearby hospital for treatment.
Rally organizers have first said that power distribution unit malfunctioned which caused the explosions but energy minister has ruled out the statement that external interference caused the power unit collapse while it is still unknown that either blast involved or not.
The reports suggested that one of explosion hit the rally just before HDP Chairman Selahattin Demirtas was to address the crowd which has been postponed following the attack while he addressed to people to stay calm and not adopt the way of violence in any case.
Prime Minister Ahmet Davutoglu has assured an investigation to the explosion, said at his election rally in city of Gaziantep that whatever is behind this happening.
Whether it was power unit explosion, an assassination attempt or an act of provocation, they would investigate it and get result soon.