Growing Jojoba (A Biodiesal Plant)As An Alternative Of Industrial Oil And Fuel Diesel In Pakistan
Jojoba (Simmodsiachinensis) is a woody desert shrub native to the Sonoran and Mojave deserts of Arizona, California, and Mexico. It is the sole species of the family Simmondsiaceae.
Its height is up to 4.5 meters and it lives more than 45 years. The plant is grown for the liquid wax (commonly called jojoba oil) in its seeds. It's producing nuts that contain oil half of their volume.
This oil is rare in that it is an extremely long (C36-C46) straight-chain ester wax and not a triglyceride, making jojoba and its derivative jojoba esters more similar to sebum and whale oil than to traditional vegetable oils.
The value of jojoba oil as an alternative industrial oil with multiple applications and as a replacement for non-renewable fossil petroleum has been demonstrated as follow:
Jojoba oil has potential use as both a biodiesel fuel for cars and trucks, as well as a biodegradable lubricant. The viscosity index of jojoba oil is much higher than that of petroleum oil; therefore, it may be used as a high temperature, high-pressure lubricant.
Jojoba oil because of its chemical similarity to sperm whale oil makes it valuable to industrialized societies and it can be used as a many types of lubrication, for oiliness and metallic wetting properties and it's also important as a chemical intermediate since it can be sulfonated,oxidized,sulfurized and its crude oil not required treatment for most industrial purposes and when its sulfated found wide application in textile indusrties.
Jojoba oil have unique properties than the other plants oil due to the presence of 50% jojoba seed is lipid, not a fat but a liquid wax which makes it unique.
Chemists found that the oil could be sulfurized, hydrogenated and broken down into unusual alcohols, all providing additional possible uses for this strange liquid wax Engineers says jojoba oil used as a motor fuel because when it burns it release energy and remain stable at high temperature and pressure in a working engine.
Researcher ran the engine on a fuel called jojoba methyl ester, which they made simply by adding a dash of methanol and a catalyst to raw jojoba oil.
It contains less carbon, which means lower emission of carbon monoxide, carbon dioxide and has no sulpher that not only will the exhaust be free of harmful sulphuroxides, but cylinder will be less exposure to sulfuric acid so engine will last longer.
The stability of the oil makes it attractive to the electronic and computer industries. Since it contains no cholesterol or triglycerides and is not broken down by normal metabolic pathways, it may become an important low-calorie oil for human consumption.
Furthermore the jujube oil is easily refined to be odorless, colorless and oxidatively stable, and is often used in cosmetics as a moisturizer and as carrier oil for specialty fragrances.
Mohamed Selim and his colleagues at the United Arab Emirates University in Al-Ain and at the Helwan University in Cairo reveals in the journal Renewable Energy (vol 28, p 1401) that the jojoba fuel matched diesel for torque and power over the engine speeds they tested, between 1000 and 2000 revolutions per minute.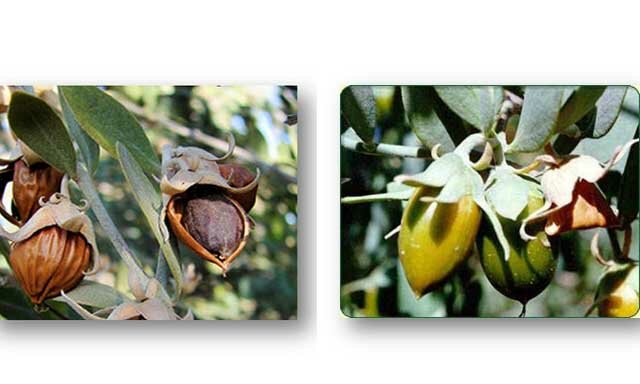 What is more, the jojoba combustion gases took slightly longer to reach maximum pressure in the cylinder, which Selim believes may explain why the engine runs more quietly on the nut oil.
In last ten years, Pakistan has been suffering from extremely high increase in primary energy demand. There is an about 150% increase in primary energy utilization over the last two decades. Pakistan consumes around two billion gallons of diesel per annum. This number is only expected to increase, due to the growth in the transport dependent commerce.
Pakistan ranks first in CNG consumption for transportation and due to its too much usage we are facing CNG shortage. Since other countries moved towards fossils fuel for their daily and industrial consumption in the last decade, however, in Pakistan we did not have developed strategies to overcome the energy crisis.
The pattern of consumption would have to evolve as the world now moves towards resource depletion as population is increasing day by day. It has become need of the time not to relay on one energy resource but we have to make a strategy in which all the available resources should be used according to a fixed schedule to meet energy demands of this explosive increasing population.
Mohammad (1989) and NCA (1988) estimated that around 60% (45.2 M ha) of the total area in Pakistan is rangelands. Most of these rangelands receive less than 200 mm rainfall, and are located on rocky soils, deserts, and rough topography.
Since Jojoba plant is highly tolerated to temperature and easily grown in hot climate, saltysoils and even in a deserts, in Pakistan jojoba plant needs to be cultivated in huge amount in such large useless deserts areas as an alternative of diesel fuel and industrial oil so it's easy to achieve the huge amount of oil while growing on deserts lands, its stronger the economy of Pakistan and bring prosperity in most poor areas of Pakistan.
Author: Amara Javed And Sumera Saleem