PTI Chief Imran Khan Banned Wife Reham's Participation In Elections As Well Party Events
The chairperson of Pakistan Tehreek-e-Insaf, Imran Khan has forbidden his wife Reham Khan to take part in by-election, even will not be allowed to attend any political party event.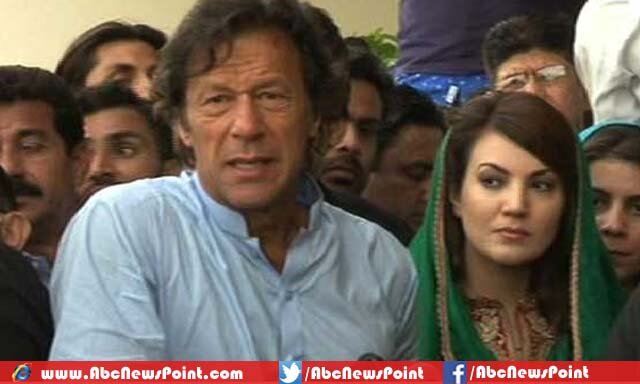 Muslim League-Nawaz candidate defeated PTI's contender Raja Ameer Zaman with huge margin, in recent by-election in National Assembly constituency NA-19 in Haripur. Khan has clarified the issue that his party opposed over family politics, reason why he will not allow his wife to take part in Pakistani politics which is not suitable for females.
Reham Khan will not contest elections on a PTI ticket.

— Imran Khan (@ImranKhanPTI) August 18,
Khan even banned her participation in next any party events neither in Khyber Pakhtunkhwa province nor at other location.
PTI is opposed to all forms of nepotism. Reham Khan will hold no party position, no position in KP; nor will be given any official protocol

— Imran Khan (@ImranKhanPTI) August 18,
The former Pakistani cricketer turned politician, Khan told that his wife Reham was part of the election campaign in Haripur on the massive insist from the party candidate as well female party members forced, but now she will not appear ever in political activities.
But what happened suddenly? Why Khan announced his strange decision?
Actually, the opposition parties as well media channels have been criticizing regularly Reham Khan for days, hence Khan rained with rage and decided to announce her wife quit from politician.
Nonetheless, British-Pakistani senior journalist Reham reacts over her husband's tweet, she took her Twitter to share her views.
I have supported the PTI cause so far because it is something my husband has devoted his life too.

— Reham Khan (@RehamKhan1) August 18,
The 42-year-old also described she didn't asked anyone that she has the intention to join election campaign and wasn't interested in race of politics.
I repeatedly said every time I was asked that I am not interested in contesting as those who do haven't made Pakistan any better.

— Reham Khan (@RehamKhan1) August 18,
She also said on Twitter that she had never thought about to be part of Pakisatn politics even, to join be PTI candidate and whenever, party forced her to be part of them, just refused the invitations.
I had declined invitations for candidacy from political parties long before getting married to IK.

— Reham Khan (@RehamKhan1) August 18,
However, no one criticized yet Khan's decision, though appreciated because media was being used to criticize by the opposition.