Top 10 Most Expensive Wedding Dresses in the World
Wedding is the most important and significant event in life and everyone tries its best to make it more memorable and extraordinary within given sources. People spend a lot on their wedding which are actually the special savings for this event they have planned for their most important part of life even guests are keen to buy new dress and accessories to the attend the ceremony.
The most significant persons in the wedding is undoubtedly the couple going to tie knot but in both of them bride and her looks has extreme significance. The bride has started preparation for the wedding event for months including her appearance, facials, makeup strategies and dress selection which is one of most difficult task she and her family have.
When it comes to wedding dresses there are number of well-known designer present in market who offer their most excellent creation for this special occasion. Here the topic of discussion is most expensive wedding dresses in the world which are given below for you:
10: 9,999 Carat Gems Wedding Dress ($160,000)
The extravagant Chinese wedding dress is encrusted with almost 10,000 carats of glittering gemstones which was was created in 2007 and displayed Jiangxi Province bridal boutique of Shangrao. The delicate creation is adorned with authentic gemstones from a prominent jeweler based in Hong Kong. The beautiful and appealing wedding dress is made of high quality material having a price tag of $160,000 approximately for which it has been added in the list of highly priced and most expensive wedding dresses in the world.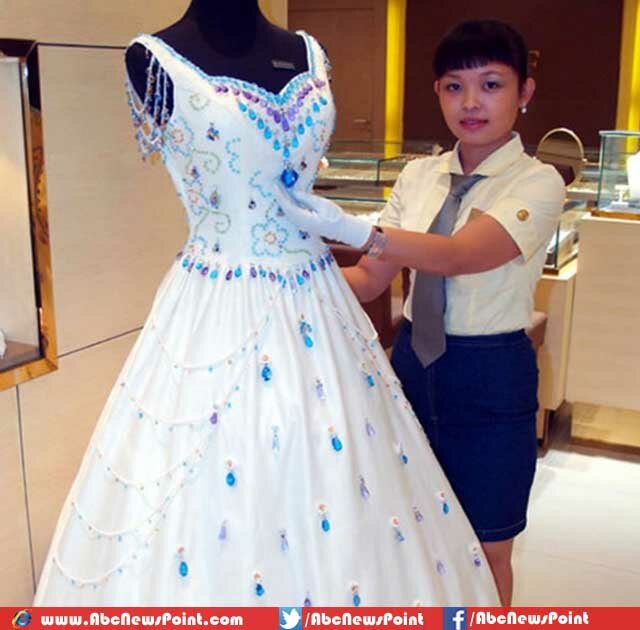 9: Platinum Wedding Dress ($250,000)
Platinum Wedding Dress is another wedding dress design from China based designer which went on display at a store in China's Anhui Province and forced several heads to turned at least one time to take a deep look of most rare and infrequent dresses among other silver and platinum creations. One of most expensive wedding dresses in the world Platinum Wedding Dress costs $250,000 which is made up of gorgeous bright red colors, manufactured with premium fabric knitted of silk and platinum thread. The white sheen added majestic luster and allure having red theme made it definitely a perfect wedding dress that offer lavish lifestyle.
8: Mauro Adami Wedding Dress ($375,000)
Designed by Italian fashion master Mauro Adami, the hand sewn wedding dress with silk and platinum thread for the ultimate event, the 40-meter fabric was in shining platinum color and floral trimmings on the gown's end make it look even more charming and appealing gave a stunning look of bride. The addition of exquisite embroidery and an elegant neckline give it a fabulously feminine feel that would make any bride feel like absolute royalty but the cost is also an essential element to consider which is up to $375,000 making it one of most expensive wedding dress all around the world.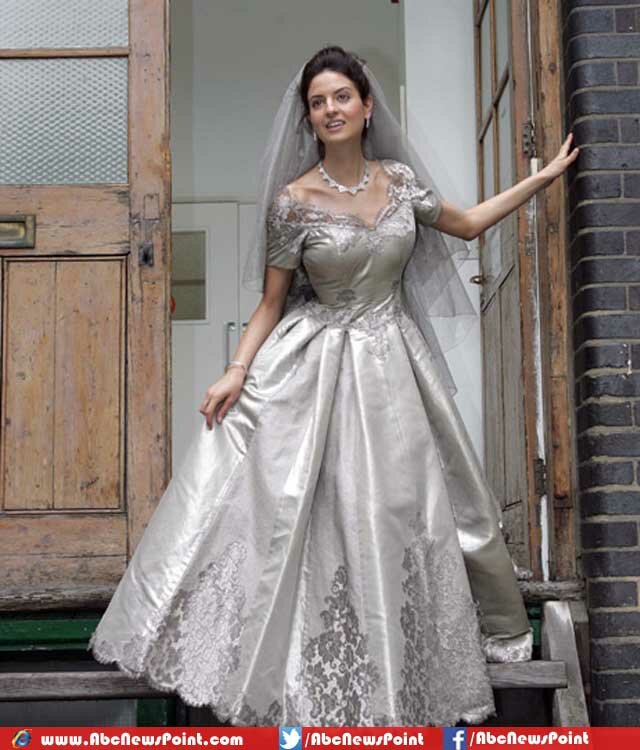 7: Amal Alamuddin's Oscar De La Renta Gown ($380,000)
The Lebanese-born lawyer's Oscar de la Renta wedding dress quickly became one of the most coveted bridal looks and becoming the one of most expensive wedding dress in the world for costing $380,000 approximately. The Amal Alamuddin wedding wardrobe ends up with stunning and luxurious to make the bride more lavish and striking for the most significant event of her life. The gown has been considered among the most popular designs for any designer because of its fantastic creativity to make the dress fabulous and magnificent ever.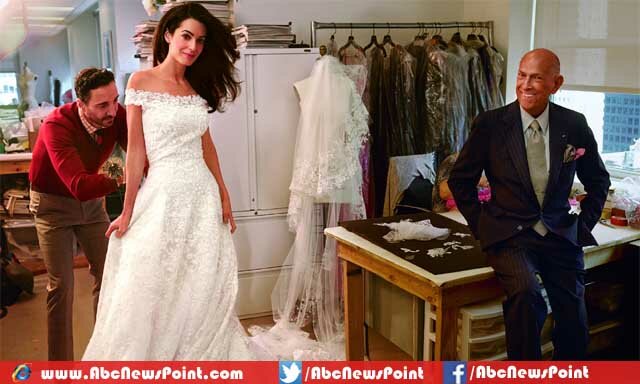 6: Kim Kardashian's Givenchy Dress ($400,000)
The American reality star and most popular celebrity all over the world Kim Kardashian has chose to wear Givenchy Dress for her third wedding to Kanye West which has price tag of $400,000 adding it in the list of most expensive wedding dresses in the world. Designed by Riccardo Tisci the dress was first revealed at her reality show, Keeping Up With The Kardashians which is similar priced as to Kate Middleton wedding wardrobe. The elegant fashion dress has a sheer back and long train and knitted sleeves which is a fine outfit for the Kim Kardashian following its popularity and famousness.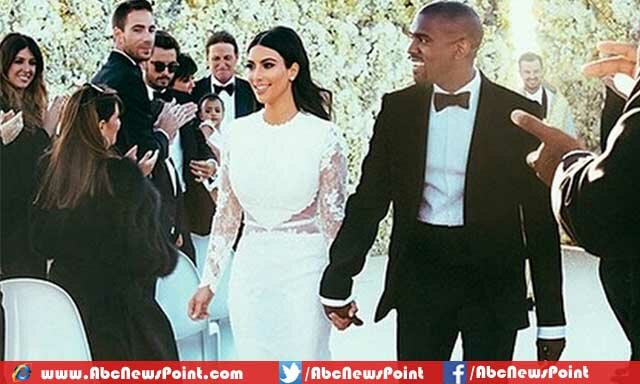 5: Kate Middleton's Wedding Dress ($400,000)
The extreme curiosity of numerous women to attend the recent Royal Wedding was that what Kate Middleton wore when tied knot with Prince William of England. Well it is unveiled with most expensive fabrics having French Chantilly, English Cluny lace and white satin gazar wedding dress that has been designed by designer Sarah Burton. The wedding dress Royal bride was one of most anticipated wedding dresses this century and even in history for a price of $400,000 making it one of most expensive wedding creation in the world. The wedding dress has been considered as complete and perfect outfit for any bride and every female want to wear that one on her special day.
4: Danasha Luxury Gown ($1.5 Million)
A creation of designer Danasha Luxury and Jad Ghandour the elegant gown contains 75 carats of hand-picked Antwerp along with Belgium diamonds and 250 grams of 18k gold making it valuable work of art if someone want to wear clean and definite luxurious outfit on her wedding day that this one of most preferred choice for her but keeping the price in mind which is about $1.5 Million for which it also enrolled in the list of top 10 expensive wedding dresses in the world. The perfectly fuse free gown was something impressive from the side of designer that left at top of fashion world because of lavishness and generosity.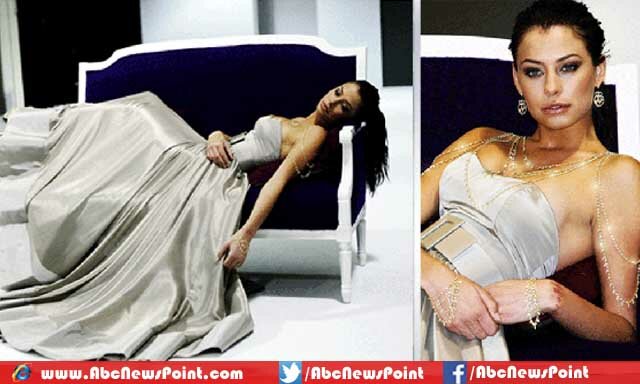 3: Peacock Wedding Dress ($1.5 Million)
The truly amazing and unique wedding dress ever made in history of fashion which is artwork of designer Vera Wang who made it with peacock feathers but for the bride who actually wants to stand out for non-traditional route. The adequate wedding dress for made in 2009 against cost of $1.5 Million becoming the expensive and luxurious wedding outfit around the globe and the impressive work of designer is absolutely fantastic which can only be measured after seeing the dress. Peacock Wedding Dress has no need to get fame because it is the name of elegance and stylishness and undoubtedly loved by every bride.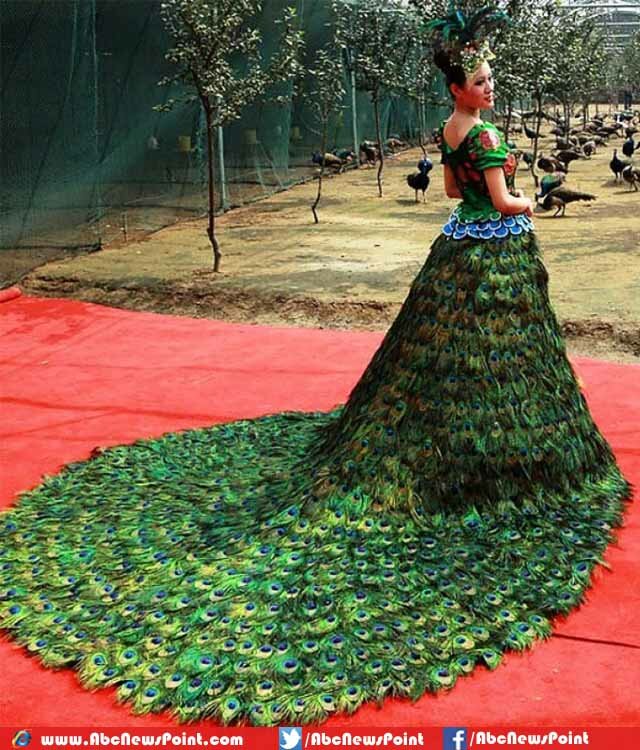 2: Yumi Katsura White Gold Dress ($ 8.5 Million)
Another most expensive creation from designers Yumi Katsura White Gold Dress is wedding outfit that costs $8.5 million designed by Japanese fashion designer Yumi Katsura. The dress was crafted with white gold, finest silk and satin lined with a collection of precious gemstones and impressive work of hand-stitched zari embroidery. The gown has been embellished with nearly 1,000 pearls and a precious and rare 5 carat white gold diamond that turned to be masterpiece which is the name of style and grace. The 8.8 carat green diamond at it center added more allure and appeal to the wedding dress at its final look.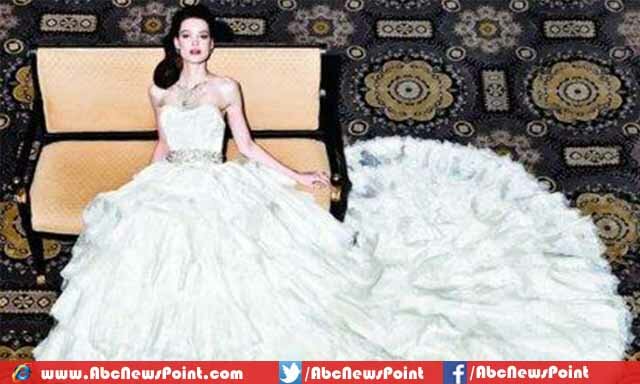 1: The Diamond Wedding Gown ($12 Million)
A remarkable collaboration between designer Renee Strauss and jeweler Martin Katz ended up with impressive and elegant creation of the Diamond Wedding Gown which is the most expensive wedding dress in the world costing massive sum of $12 Million. The stunning dress has the finest fabrics which features 150 carats of diamonds to make it prettiest and stylish ever in the fashion history. The wedding dress has encrusted diamond jewelries of nearly 150 laced carats of diamonds designed by famous artists who have been considered as master in their field and unquestionably create the masterpiece.