Top 10 Most Expensive Shoes in the World
Shoes are one of the common accessories to have for any human; however, the style has been changing with the passage of time with the requirements. Same as dresses, variety of shoes are available in market following various characteristics such as color, style, quality, price and lifetime. Numerous Shoe brands are serving in market and manufacturing the stylish, elegant, graceful and fine quality shoes to attract customers. Many people have craze to own best thing including basic accessories for themselves either it is most expensive one n world, here we listed top ten most expensive shoes in the world which absolutely amazed you and you forcibly fall in love with that collection.
10. Diamond Dream Stilettos – Stuart Weitzman $500,000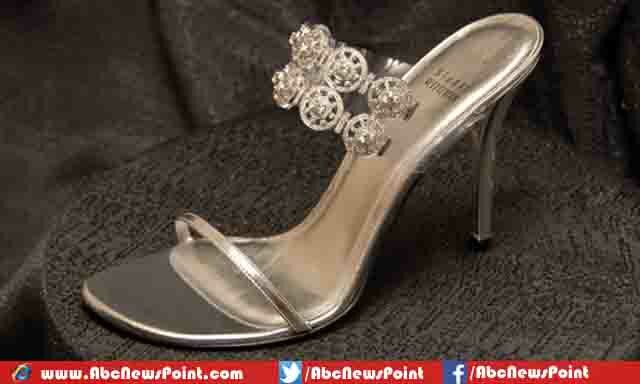 Diamond Dream Stilettos are most classy footwear created by top-of-line designer Stuart Weitzman which has worn by Anika Noni Rose for the 2007 Oscars. The shoes are listed in top most expensive shoes in the world worth $500,000, having 1,420 diamonds which are studded in it set in platinum. Diamond Dream stilettos has two bands of diamond-coated circles at the top of each foot while a simple silver band across the toes, making it more refined and pleasing.
9. Original Ruby Slippers from the Wizard of Oz $612,000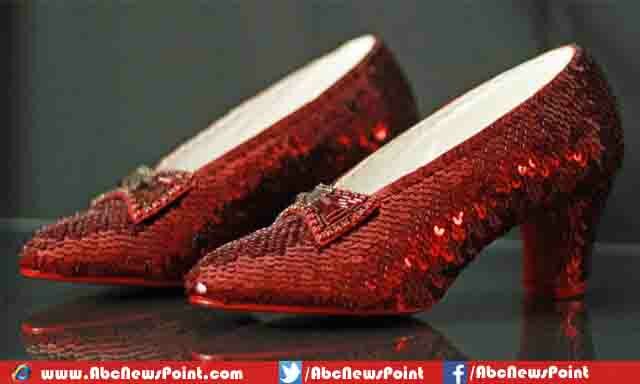 The slippers that were worn by the character Dorothy in The Wizard of Oz, the design makes the shoes actually burnish is nothing but red sequins which looks bit fancier with three crystals and bugle beads. The shoes are actually not costly if to manufacture now but the actual reason of making these Ruby Slippers more expensive is just the success of the movie that everyone has keen to own these slippers without considering anything else. The one of five pair has been sold for $612,000 which added it in the list of most expensive shoes in the world.
8. Retro Rose Pumps – Stuart Weitzman $1 million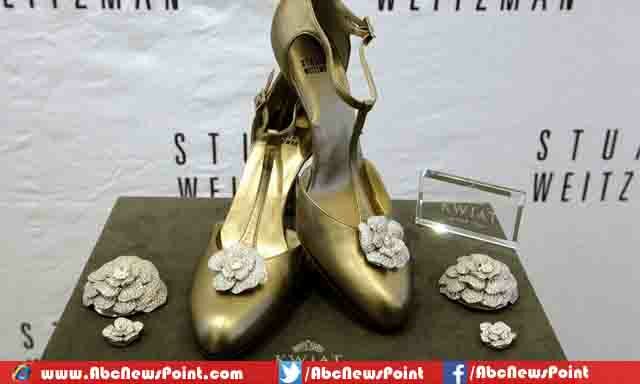 The million dollar shoes Retro Rose pumps is another creation from well-known shoe designer Stuart Weitzman that has recognition for expensive and beautiful designs that mesmerized the common people but also many celebrities who ready to use it for fascinating events like Oscar red carpets. The shoe has very fine and striking appearance under beautiful designer outfit. The retro rose in the front of the shoe gave an extraordinary appeal combined with 100 carats of 1,800 dazzling Kwiat diamonds. Hollywood celebrity Diablo Cody shines on the red carpet at the Oscar 2008 with Retro Rose Pumps which are amongst most expensive shoes in the world.
7. Marilyn Monroe Shoes – Stuart Weitzman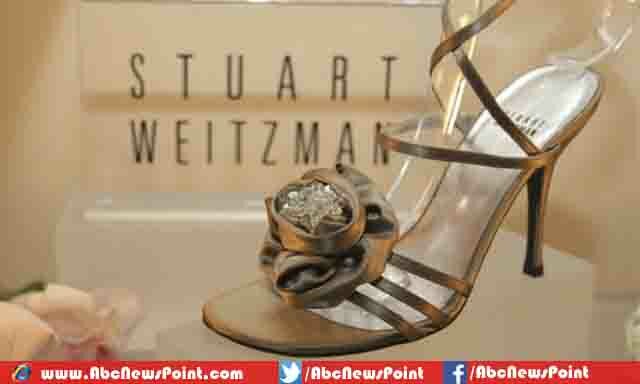 Marilyn Monroe Shoes are another one of most expensive shoe pair in the world costing one million dollar, festooned with a satin rose that has a cluster of sparkling Swarovski crystals around it that made most neat and trendy one. Stuart Weitzman's collection has worn by Regina King in 2005 Oscars, just after the red carpet the actress has replaced Marilyn's earrings with replicas and auctioned off these shoes in the Celebrity Rags 4 Charity Riches auction where the pair has been sold for $1 million.
6. Platinum Guild Stilettos – Stuart Weitzman $1.09 million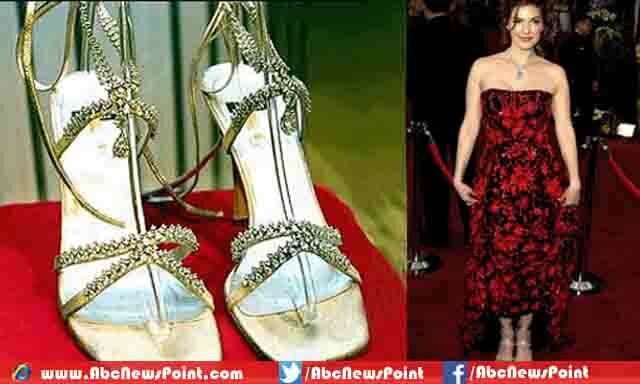 Platinum guild stilettos are one of the rare collections from Stuart Weitzman with platinum fabric straps while total of 464 Kwiat diamonds included in the design which are encrusted in the straps, added into list of most expensive shoes in the world which costs $1.09 million. However, the diamonds are not fixed and can be removed to use it at simple occasions. Laura Harring can be seen wearing Platinum Guild Stilettos at eve of Oscar in 2004, specially designed for her to attend the event.
5. Ruby Stilettos – Stuart Weitzman $1.6 million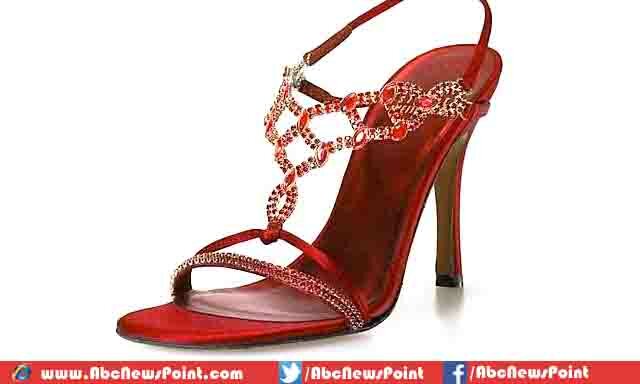 Stuart Weitzman incredibly expensive pair, Ruby Stilettos shoes have whole insole of red satin with 600 rubies weighing nearly a pound each. The pair has been among the top most expensive shoes in the world with price tag of $1.6 million, has dreamy red look which is just amazing and fabulous. Although, the impressive shoes are made to display for the academy award in 2003 but didn't used by any actress at any eve till now, only placed at shelves.
4. Tanzanite Heels – Stuart Weitzman $2 million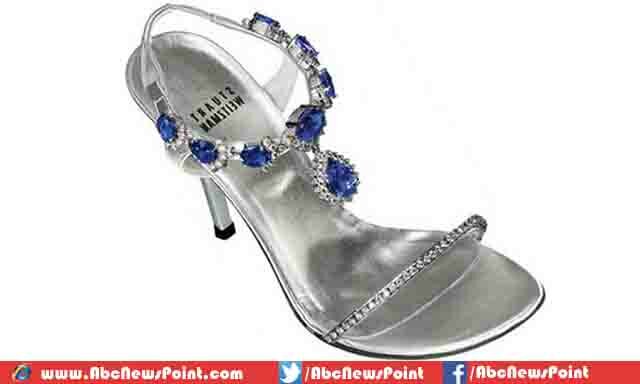 Tanzanite Heels is an amazing collaboration of Weitzman and high-end jewelry designer Eddie Le Vian, which crafted silver leather while an ankle strap on top that look like a necklace worn by royals than an ankle holster. Coated with 185 carats of elegant bright blue tanzanite gemstones and 28 carats of diamonds while ankle strap is crowned with a dangling 16 carat tanzanite drop gave them incredible stare. Tanzanite Heels are also one if most expensive shoes with massive sum of two million dollar.
3. Cinderella Slippers – Stuart Weitzman $2 million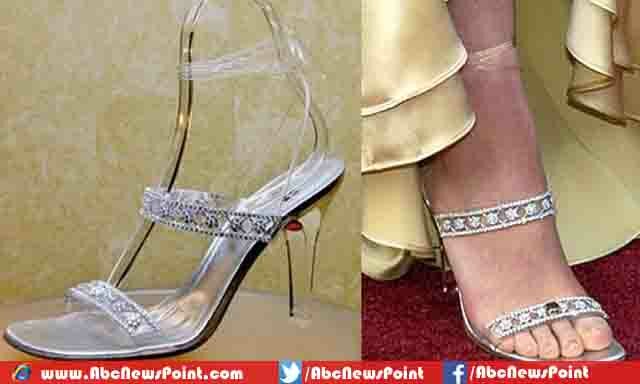 Cinderella slippers is another pair from Stuart Weitzman expensive collection, yes Stuart Weitzman has added one more outstanding creation to its list. The shoes are made up of purely 565 Kwiat diamonds in platinum setting at laces which cost up to one million while the whole pair has price of two million and enlisted in top most expensive shoes in the world. Luckiest Alison Krauss was the only one who first wore the slippers to the 2004 Oscars.
2. Rita Hayworth Heels – Stuart Weitzman $3 million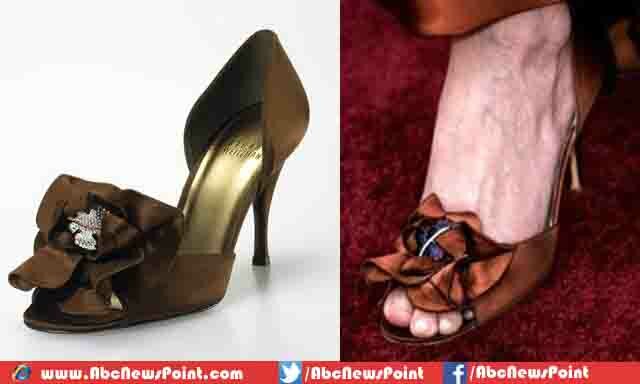 Rita Hayworth heels are well-decorated and most classy shoes again from Stuart Weitzman with stones including diamonds, rubies and sapphires, created from rust-colored satin. The open-toed heels have been first worn by actress Rita Hayworth in the movie Shawshank Redemption which has possessed by her daughter Princess Yasmin Aga Khan now. Most expensive shoes has also worn by some of the hottest celebrities and added in the list of most expensive shoes in the world costing $3 million.
1. Ruby Slippers – House of Harry Winston $3 million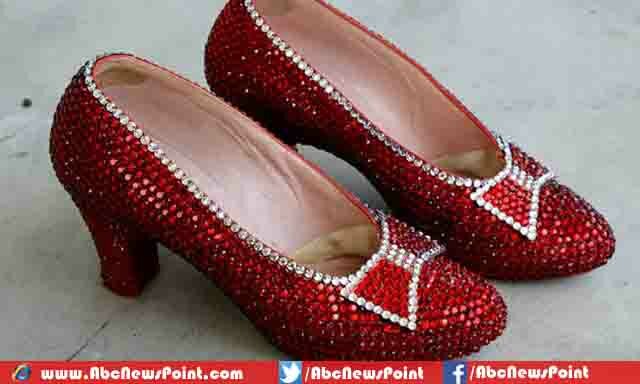 Designed by Harry Winston Ruby Slippers is a replica of Dorothy's ruby slippers with the expensive jewelry and art work for which Winston takes two months to make it in real look. Harry Winston Ruby Slippers is actually a tribute to The Wizard of Oz on the eve of 50th anniversary of the film's release in 1989, has over-the-top shoes with 1,350 carats of rubies and 50 carats of diamonds made them more precious and most expensive one in the world with price of $3 million.