Multifaceted Miley Cyrus Posts Clip of New Track on Instagram
Renowned American pop singer Miley Cyrus posted her new son video via her Instagram account, which appears while singing her unheard slow temp number, performing in recording studio.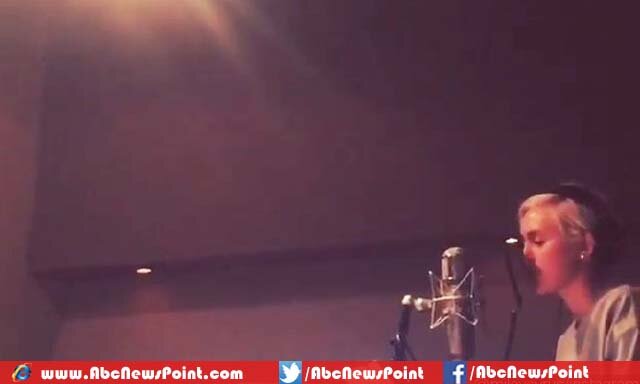 In the 15-second long video, Miley appears while singing some words as, "Why do people only show forgiveness— when they wanna sound cool in a song?"
The 22-year-old bomb shell lady also declined to share further information about his next, but just shared that in this project she is working with America's well-known rock band's The Flaming Lips' Wayne Coyne who is her close friend.
The 54-year-old Coyne also took Instagram to stir his association related news with multifaceted Cyrus. Coyne also placed footage on his account, in which appears while sitting with hitmaker of 'Wrecking Ball'.
On the other hand, according to fresh update by American media, Miley Cyrus took her Instagram to share a picture in which appears while imitating Gigi Hadid.
Gigi,19, is ruling on Fashion Week's runways and being tagged on covers of magazines because she has seductive, sizzling hot personality, Miley try to imitate Hadid just for fun as she captioned while posting the mimic photograph, "Juz tryin 2 b as kiewt as a Hadid sister,"
American country singer Billy Ray Cyrus' daughter posted one more photo, in which she poses with smiley face while standing alongside Gigi, wearing black hat and that captured by Miley's singer boyfriend Cody Simpson.
Miley is crazy to publish her selfies as well photos with other well-known personalities of music industries to gain complete attention of all as it is the best way to enhance the number of fan following.
She is also considered a barefaced beauty who never feels shy to remove her chest in front of camera to just gain the attention of fans.