Patricia Arquette, JK Simmons Named Best Supporting Actor Award, Oscars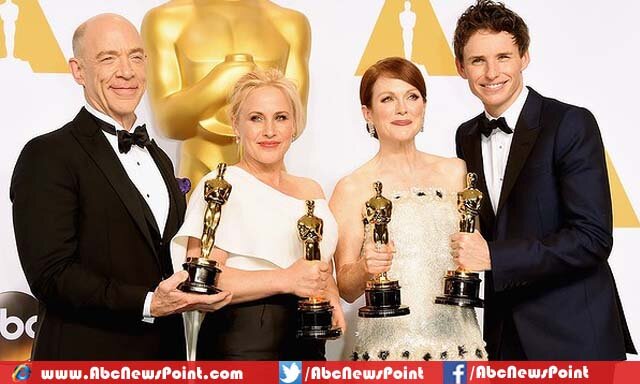 The 60-year-old veteran American actor named the Oscars in best supporting actor category as he higly-acclaimed for his spectacular performance in Whiplash.
Simmons appears in a jazz band instructor role who uses humiliation, brutality, fear to stimulate his students – especially Miles Teller, co-stars as an determined hopeful jazz drummer.
Simmons first time nominated for Oscar despite playing super characters in his whole career but he also sacked Golden Globe in January,.
He nominated with other experienced stars in this categgory as Ethan Hawke for 'Boyhood' Mark Ruffalo for 'Foxcatcher', Edward Norton 'Birdman' and Robert Duvall 'The Judge'.
The live coverage of 87th Academy Awards had televised via the Dolby Theatre in Los Angeles' ABC and event hosted by Neil Patrick Harris in which Simmons' name was announced for best supporting actor winner.
The 46-year-old Patricia Arquette also received Academy Award for best supporting actress for superior act in Boyhood.
Gorgeous Arquette emerges on big screens playing role of mother of Ellar Coltrane's Mason in Richard Linklater's sweeping look at a boy's life, story revolves around the life of 12-year boy.
Arquette also received this biggest achievement first time but her name was called in winner of Golden Globe awards in January.
The experienced Arquette beat the other nominees in this category as Emma Stone- 'Birdman', Laura Dern- 'Wild', Keira Knightley- 'The Imitation Game' and Meryl Streep- 'Into the Woods.'