PTI Shutdown Continues, Stage Sit-Ins at 18 Locations in Lahore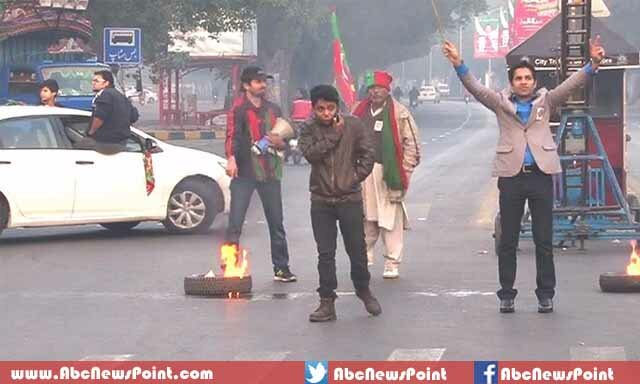 Lahore: Pakistan Tehreek-e-Insaf has stage sit-in at 18 different locations in Lahore, shut down the provincial capital of Punjab on Monday.
According to Pakistani media youth representative party PTI has lock down the Punjab provincial capital Lahore today, protested at 18 different areas in the city to pressurize the government to fulfill its demands against rigged election.
PTI chairman Imran Khan was announced Plan C stating to shut down major cities of country to record their protest, addressed to massive crowd in Islamabad on November, 30. The party workers have gathered in many major locations to lock down the Lahore following Faisalabad and Karachi.
As part of Plan C, workers stage sit-in in the city to paralyze the government which has being led by PML (n), however, Imran apologized to residents of Lahore and request to be the part of their protest against status-co.
PTI activist block various roads by burning tyres including Chowk Yateem Khana, Qurtaba Chowk, Liberty, Thokar Niaz Baig, Walton roa, Defence Mor and Bhatta Chowk etc. The demonstrators not only gathered in different ares of city but also shouting and chanting 'Go Nawaz Go' having play cards written against corrupt government.
To maintain law and order situation nearly 20,000 police officers have been deployed in the city while Edhi ambulances, 1122 vehicles placed at various point for assistance in case of emergency.