Top 10 Most Expensive Jeans In The World
Jeans are worn around the world and has considered as an attire of comfort and leisure it is also considered as the least less expensive outfit. It is a popular article of casual dressing around the world. This piece of attire is worn by everyone around the world from president to cowboys from model to peasants, everyone wears it.
All these people have different reasons to wear it as most of them wear it because of comfort, easy to carry and above all it is affordable. However, this so called cheap outfit has been made expensive by designers. Now the designer jean pants have become way too expensive and cannot be afforded by an average person.
Today we will discuss the top 10 most expensive jeans in the world. There are number of reasons that how and why some pair jeans comes under the category of top 10 most expensive jeans in the world. One of the basic reason behind these pair of pants becoming as the top 10 most expensive jeans in the world is because of their cuts, their style, their stitching and of course the name of the brand which designed it, this all together makes it worth the price.
In this article we will discuss top 10 most expensive jeans in the world and why they are considered as most expensive pair of jeans.
10: 7 FOR ALL MANKIND- $298
This brand makes jeans in various styles and colours. The reason it is popular is because of its perfect fitting from thigh and legs. As we all know that Jeans get better with age the older the jean is, the more comfortable it gets. Therefore all these brands which have made to the category of the top 10 most expensive jeans in the world sell those jeans which offers comfort along with style to their consumers.
9: EARNEST SEWN CUSTOM FITS-$1000
Earnet Sewn Custom fits as name says it the company not only makes customized pair of jeans for you but if you want they stitch the pant as per your fitting and measurements so the jeans fits perfectly to your body in proper shape.
8: DOLCE & GABBANA- $1200
If you want this pair of jeans by Dolce & Gabban then you need to sign up for this. As this special of jeans is custom made and its back pocket is covered with a pink patch and adorned with a gold logo of the fashion design company hence making it worth waiting for.
7: ROBERTO CAVALLI-$1200
The jeans by Robert Cavalli are very famous in Hollywood celebrities. You must have seen Sarah Parker wearing jeans from this brand in famous sequel of Sex and the City. The reason of popularity behind these pair of jeans is that they adorned with jewels and different designing sequence.
6: GUCCI JEANS-$3100
Anything which has a name Gucci attached to it becomes fashionable, expensive and elegant. Gucci introduced line of its jean pants in 2010 in fashion show held in Milan. Like other accessories by Gucci the jean pants of Gucci are also expensive and start from $3100.
5: APO JEANS- $4000
APO jeans come with silk pockets and riveting made of gold, silver or platinum. A diamond can also be used as a button. An assistance of professional jewelers is sought to ensure that the gemstones used on the pair of jeans are real and valuable. Therefore these stones make this pair of jeans worth of dollars and this pair of jeans by APO Jeans stands at number 5 in the ranking of top 10 most expensive jeans in the world.
4: ESCADA $10,000
Escada is a brand which makes customized pair of jeans for you. A customer can have jean pant designed according to its wishes. Customer can have some design or embellishment done on it or can prefer regular old faded jeans, hence the prices of jean pants from Escada store starts from $10,000.
3: LEVI STRAUSS & CO, 501-$60,000
As we all know that jeans get better with the age. The vintage jean collection from 501 series of Levi's is the most famous. The vintage Levi's jeans are very expensive. As two older jeans one from 1900's and other from 1800' were brought for $46000 and $36000. Basically Levi's bought these pairs of jeans from its customer who bought it back in 1800 and 1900. Hence making these two pairs of jeans as most expensive jeans in the world.
2: DUSSAULT APPAREL THRASHED DENIM- $250,000
The next in the line is the Thrashed Denim line of luxury jeans from Dussault Apparel is appropriately named. The pair of jeans from this line starts from 250,000 dollars. The reason behind this pair of jeans to consider as one of the most expensive jeans in the world is because these jeans are washed almost 13 times before it gets stitched to make it comfortable for its consumers. Hence because of comfort this stands at number 2 in the list of top 10 most expensive jeans in the world.
1: SECRET CIRCUS- $1.3 MILLION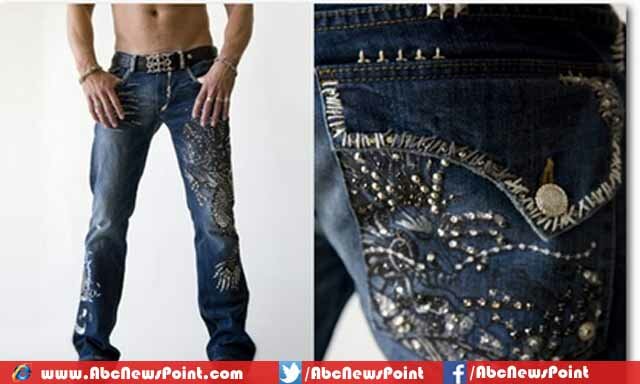 In the race of top 10 most expensive jeans in the world the pair of jeans by SECRET CIRCUS stands at number one. This one specific pair of jeans has women around the world drooling over it however, the price of the pair of pants is $1.3 million, for which it stands on number one position in the competition of top 10 most expensive jeans in the world. The reason behind this particular pair of pants to be outrageously expensive is because it has small design on its back pocket with real diamonds embellished on it. Well diamonds are diamonds whether you wear them around your neck or on the back pocket of your jean pants, it's worth wearing it. These types of pants are first of its kind being introduced by Secret Circus.