Top 10 Richest Soccer Players in The World
Soccer is the game which has been broadly played in the world, have various event worldwide in the whole year including the mega event FIFA World Cup with massive crowd also most watched sports eve in the world. Spanish Liga BBVA, UEFA Championship, English Premier League, Italian Serie A and German Bundesliga are the other big events today. Following the popularity and standing soccer players also well known and famous all over world and have been highly paid by respective clubs. Despite of their salaries many of foreign leagues pay giant sum of money to them to play soccer on their behalf, here are top 10 richest soccer players who not only have popularity but huge amount has been transferred to them.
10. Ricardo Kaka
Ricardo Kaka is a Brazilian professional footballer who plays as an attacking midfielder, began footballing at the age of eight from a local club. KaKá joined Real Madrid worth €65 million and played four season in Spain following her success, received FIFA World Player of the Year in 2007. Kaka joined Orlando City in 2013 after termination of contract, has been receiving 13.8 million against salary while endorsement worth is 5.5 million while his other association Adidas, EA Sports and Sony packages are separate.
9. Zlatan Ibrahimovic
The Swedish professional footballer Zlatan Ibrahimovic is the captain Swedish national team of plays as a striker for French club Paris Saint-Germain. He started football in late 1990s, he joined rivals Internazionale in 2006 and won Oscar Del Calcio and the Swedish Guldbollen. He is also one of players who played for Swedish national team more than 100 times, considered as best finishers in the game and richest player of world. At present he is playing for Paris Saint-Germain worth 17.2 million per year while his commercial transfers him 2.5 million annually.
8. Fernando Torres
Fernando Torres is Spanish footballer began career with Atlético Madrid, signed Premier League club Liverpool in 2007 and became first player of the club with more than 20 goals in the season. He made his debut in Spain national team as a striker in 2003, named as country's third-highest goal scorer with major goals in Euro 2008 and Euro 2012 finals and defeated the opponents. Currently he is playing for Atlético Madrid since 27 December, earning total 20 million annual including advertisement contracts of 3 million.
7. Neymar Jr.
Another Brazilian rising star Neymar is also the captain for the Brazil national team, plays for Spanish club FC Barcelona as a forward or winger. His playing style has been much appreciated compared it to ex-Brazil forward Pelé, made his debut in 2009 for Santos. The bazillion footballer is nominated for many times and received many awards following his excellent and remarkable game against rivals. Neymar is one of the players who receiving endorsements almost equal to its salary which 10.5 million is totaling 20.5 million.
6. Yaya Toure
Yaya Touré started career at Ivorian club ASEC Mimosas and made first appearance in age of 18, became Barcelona player in 2007 and played more than 100 matches following his playing for various European clubs. The younger brother of Kolo Touré, his Ivory Coast teammate, plays currently for English club Manchester City and the Ivory Coast national team as a midfielder. Manchester City paid him 18.2 million per annum since 2010 excluding sponsorships which worth 2.5 million.
5. Didier Drogba
The former captain of the Ivory Coast national team Didier Drogba is top scorer of club, represents Chelsea in the Premier League as a striker. At 18, he made debut for Ligue 2 club Le Mans, moved to Olympique de Marseille finished his contract with third highest scorer rank. In 2004, he joined Chelsea for record sum paid ever to any player by club; however, Drogba did a lot and named numerous victories for the club in return. At present his total earning is 20.8 million, 5 million from commercial ads packages and 15.8 million annual salaries.
4. Sergio Aguero
Sergio Agüero is an Argentine soccer player playing for Premier League club Manchester City as a striker, made his debut in Argentine Primera División when he is only 15-yer-old, the youngest player for the league. Aguero played for Atlético Madrid since 2006 for five years and made recognition worldwide with his terrific performance, started playing for Manchester City from 2011. He listed his named in richest players of world by transfer of 17.4 million every year with additional 3.5 million against endorsements.
3. Wayne Rooney
Wayne Mark Rooney is multitalented player played forward, midfielder and winger as well, started playing soccer since 9 and made first professional appearance in 2002. Rooney debut in international soccer in 2003 when he is 17, he joined Manchester United in 2004 and scored 200 plus goals till now, represented his club in several mega event and won many. Rooney is fifth highest-paid player in the world also became the richest soccer player with 21 million income annually including sponsorships of about 3 million.
2. Lionel Messi
Lionel Messi, the remarkable, excellent, incredible and super player, who didn't know him if someone belongs to this planet must heard the name of Argentine footballer. Forward player considered as diamond of FC Barcelona, received numerous nominations and won several awards following his captaincy and performance internationally. Messi has been playing 11th session for Barcelona which paying him 20 million for the whole year while he earned same amount through endorsement bring total to 41 million enrolled himself for richest soccer player of world.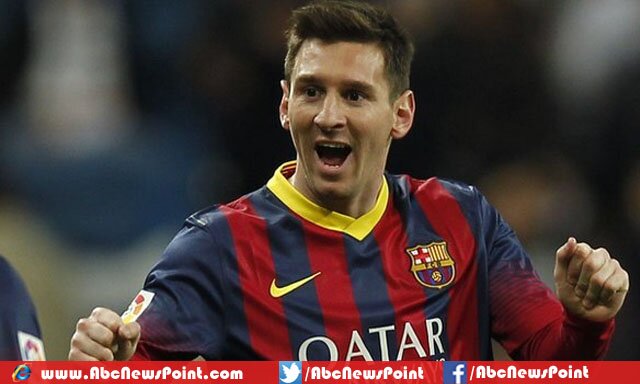 1. Cristiano Ronaldo
The top rank player of soccer ever Cristiano Ronaldo lead Portugal national team and represents Spanish club Real Madrid. With his 400 goals he is no doubt the fantabulous footballer, received FIFA Ballon d'Or in 2013 and, considered as best player of world all the time. Ronaldo started his career with Andorinha, in 2003 he has been signed by Manchester United worth 18.50 million which he left after six years. He joined Real Madrid in 2009 and appeared in 181 games with 203 goals till now, became the richest player for his outstanding performance and popularity. His estimated annual income is worth 21.23 from salary and 24 million from commercials and endorsements.