Angelina Jolie Delivers Message to Kids at Nickelodeon Show 'Different is Good'
The Hollywood's renowned actress-filmmaker Angelina Jolie emerged at Nickelodeon's 28th Annual Kids' Choice Awards on Saturday, where she turned stage to deliver a message of hope to those who lost their hopes for good future.
It was her first appearance publicly after revealing that being treated for second preventive surgery to decrease her risk of ovarian cancer. The humanitarian Jolie attended ceremony with her children, Zahara and Shiloh.
Before joining the stage, Jolie hugged her children and then stepped out towards stage to receive the favorite villain award for her role in Maleficent in the live-action reimagining of "Sleeping Beauty."
Hollywood's super star Brad Pitt wife said on stage after receiving awards for her best, "When I was little, like Maleficent, I was told that I was different.
And I felt out of place — too loud, too full of fire, never good at sitting still, never good at fitting in,"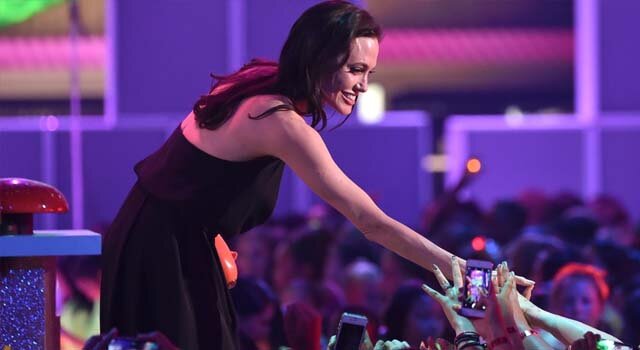 The 39-year-old actor added in her continued speech, she prefers positive thinking and shouldn't be hopeless because hope for good makes us successful and she realize, 'Different is good', after is excited screams heard from the young crowd.
She said more, "And, as your villain, I would also say cause a little trouble — it's good for you."
Jolie told she has faced lots of unexpected twists and turns in her life but despite of it couldn't lost her trust in God, her spectacular performance in the biopic "Gia" changed her bad time in good time and after it placed her name on top.
Nowadays, not just a actor because she has been entered in world of direction, 'Unbroken' is her first directorial venture which win positive reviews from critics as well audience and after recovering, to start another project.