Best Friends Taylor Swift and Selena Gomez Enjoy Girls Night Out with other
Texas hottest beauty-singer Selena Gomez and her 25-year-old close friend Taylor Swift, both enjoyed a lot girls night out party with other friends as HAIM sisters Este Haim and Alana Haim, Ellie Goulding,28.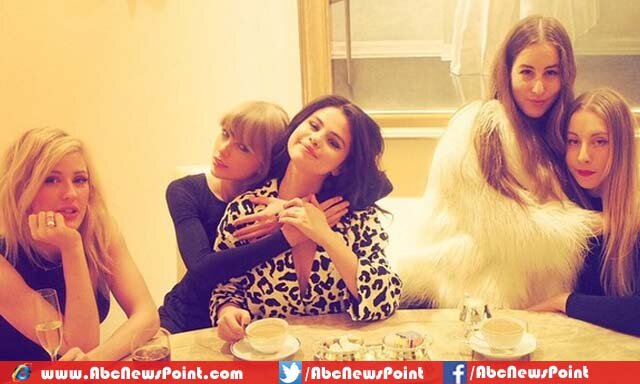 The hitmaker of 'Blank Space' posted a photograph of the bunch while taking tae as well some of those enjoying champagne.
The photograph shows, sexiest Taylor, holding tightly Selena in her arms, whereas Ellie sat close to them on chair while holding a champagne filled glass.
Youngest songstress Taylor published two pictures from their outing while captioning, "We are at our best when we cheer each other on and build each other up. Happy International Women's Day,"
The second one photograph shows, glamorous Taylor lied while lifting her feet in the air on wooden couch with Selena who sat on arm of the couch.
Previous week, Taylor pleased when she heard the news of her best friend Jaime King, who soon to welcome her second baby.
Taylor decided to spend time with her pregnant friend while enjoying a lunch, both have fun while eating lunch at AOC in Beverly Hills on Tuesday as well talked a lot.
Gorgeous Jaime was seen covered her baby bump with a white, scoop-neck top, and enhanced her legs beauty with a black pleated miniskirt.
She didn't beautified herself with heavy make, though just done up lovely with lips red lipstick, holding a cute round shoulder bag in the shape of a cat's face.
However, leggy lass Taylor decorated her slim legs in a grey leopard-spot minidress and hid her eyes behind side of brown sunglasses. She done up her feet with red peep-toe platform shoes.