India Claims Successful Test-Fire of Ballistic Missile Agni-5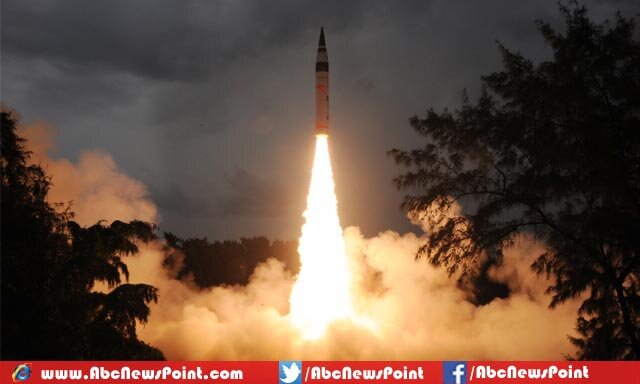 Mumbai: India claimed successful test-fire of ballistic missile Agni-5 which has strike range of 5000 kms, capable to carry nuclear warhead of over one tonne.
According to foreign news agency India has successfully launched test-fire of ballistic missile Agni-5 on Saturday which has able to mark the target up to range of 5000 kms and has capacity to carry nuclear warhead of over one tone.
Integrated Test Range (ITR) Director M V K V Prasad said in a statement that missile was test-fired from a mobile launcher from the launch complex-4 of the (ITR) at about 8.06 hours, which has successfully fired while detailed results would be analyzed after collecting data from all radar systems.
Indian Prime Minister Narendra Modia also praised the scientists for successful launching of Ballistic Missile Agni-5 stated on social blogging site twitter that 'Successful test-firing of Agni V from a canister makes the missile a prized asset for our forces. I salute our scientists for their efforts'.
The reports suggested that this was third successful launch from Indian side; however mobile launcher has not been used in earlier test-fires which carried out on 19 April, 2012 and on 15 September, 2013.
Indian defense will be able to add one more Ballistic Missile to its Agni series which contains Agni-1 with 700km range, Agni-2 with 2000km range while Agni-3 and Agni-4 has ranged up to 2500km to 3500km.