Saudi-led Airstrike Removes Rebels Advance in Yemen
Washington: on Monday, a Saudi-led military coalition remained successful to remove the Iranian-backed rebels' advance and naval forces of regional coalition also blocked those ports where rebels are received the supply of weapons.
The air strikes campaign was launched just stop the advancing of Houthi rebels as they are on way to capture Aden where United States supporters government has complete hold, Saudi Brigadier General Ahmed Asir told media.
The international media reports, the Saudi-led air attacks would move the security forces momentum away from the rebels and bombing campaign will force Houthis fighters for negotiation and the Arab armies will continue their operation until rebels never surrender.
The Suadi-led don't want to capture Yemen, don't want to win the battle, they just want to create peace as well battling to resolve the issue with talks like political process, An analyst, Mr. Mustafa Alani said at Geneva's Gulf Research Center.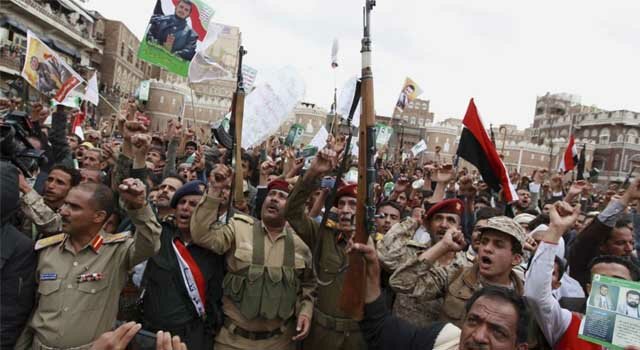 The ground forces of Saudi Arabia are limited to launch quick attacks or would be little tough because they also have to defend their border with Yemen.
It also said in report by Alani that Saudi-led military coalition would avoid to enhance ground battle in Yemen with mountainous territory because rebels have idea of these locations.
Yemen is caught in communal war which is being done between Saudi-backed regime and Iranian-backed rebels when Saudi-led military coalition started their air strikes because the Houthis were trying to capture territories of the country and almost remained successful.
Iran has huge population of Shiite and Saudi Arabia and its coalition are Sunnis.
The twenty-two members of Arab League claimed previous weekend, to establish a broader military force which capable to enter in Yemen as well other countries to fight against the rebellions.