World Cup Shane Watson v Wahab Riaz ICC Fines Watson, Wahab for Abuse during Match
Adelaide: In the third Quarter final of World Cup between Australia and Pakistan, ICC fined Wahab and Watson for exchanging abusive words during match.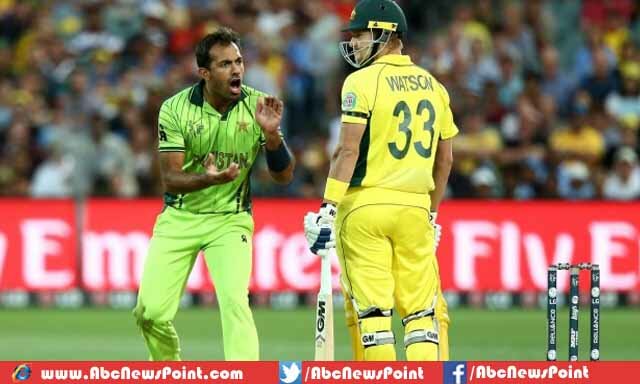 According to latest news International Cricket Council has charged Wahab and Watson fifty and fifteen percent of total match fee for abusing during third Quarter final of World Cup which has been played in Adelaide cricket stadium.
In the match between Australia and Pakistan, the aggressive bowling spell from Wahab Riaz has gained fame all over the world but his exchange of words during his scary spell was become a reason of charging fifty percent of match fee by ICC, has also stated that action will be announced today against Shane Watson and Wahab Riaz if any.
Riaz, dusing his fiery spell was quiet dominating by his excellent bouncers and short pitch deliveries to his opponent Shane Watson while also make a little fun of him to put pressure on him following the match situation, as Wahab said after match.
The umpire Madugalle has stated that it was really intense competition between both player but was quiet constructive but during the spell at one stage they have crossed the limit.
exchange the world which are insulting and offensive, violating the code of conduct by ICC while Wahab also through a kiss to Watson once in match.
Australia has won the match by beating Pakistan and reached to semi-final, however, both team's skipper Michael Clarke and Misbah-ul-haq admired the astonishing spell of 33-year-old Wahab while many of other legendry cricketers also well-liked the bowling saying it truly outstanding.