Miguel Cotto Vs Canelo Alvarez, Fight Date, Predictions, Latest Details
The announcement of long-awaited battle between Mexican boxer Saul "Canelo" Alvarez and Puerto Rican boxer Miguel Cotto warrior took everyone's breath away, as two most dangerous fighters to face each other on 21 November reportedly at the Mandalay Bay Events Center in Las Vegas.
If reports are to be the former British boxer Mickey Vann may have performing his honest duties as match referee and the battle will definitely take time to end in ring.
Miguel Cotto has set all to name the WBC middleweight title, while his competitor will surely planned to beat hard with rain of punches in ring of WBC.
The 34-year-old United States' boxer and his rival Saúl Álvarez attended press tour together to reveal about their upcoming dangerous battle in Los Angeles on 31 August,.
Mexican middleweight boxer described media, "Like any big fight, the negotiations are going to be hard. But I'm honored to fight a guy with his accomplishments. This is a big step in my career,"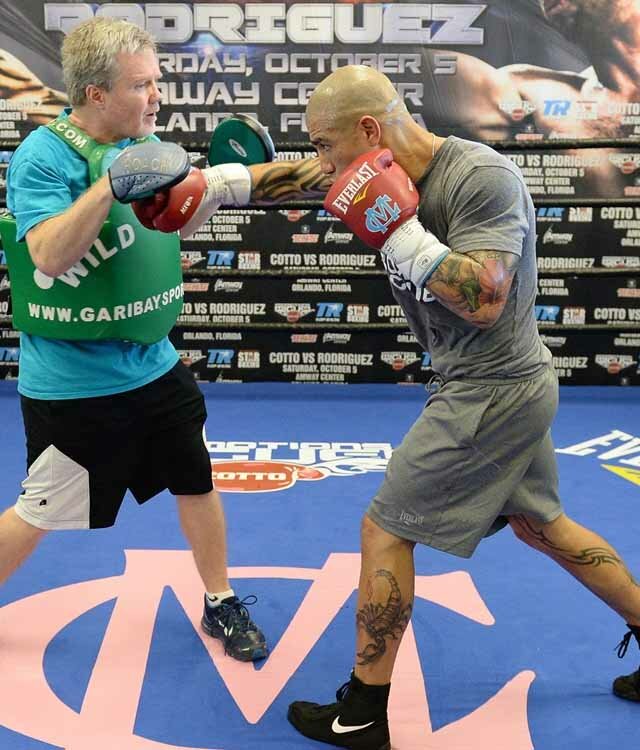 Saúl Álvarez has named 45 titles and faced only two defeats in his entire career, while assured fans for his victory against Miguel Cotto, who has sacked 40 victories out of 44, though 33 of them are knockout victories.
In the reply, Miguel Cotto explained that he doesn't like to focus on others' views, while believes to work hard to sack any next achievement.
Miguel Cotto replied, "I don't know what people say about the fight, and I don't care. I focus on myself, on my training camp. Nothing else matters,"
The outrage has shown by Saúl Álvarez side, looks passionate for this fight, though Cotto expressed feelings like a technical warrior without aggressive wording.
However, the winner of Alvarez-Cotto battle will face the winner of Gennady Golovkin and David Lemieux upcoming game which to be held on 17 Octobar.