Sri Lanka Beat Bangladesh by 92 Runs Match Result, ICC World Cup
Sri Lankan stormed Bangladeshi cricketers and hit hard with enormous rage while beating them by 92 runs eighteenth match of World Cup.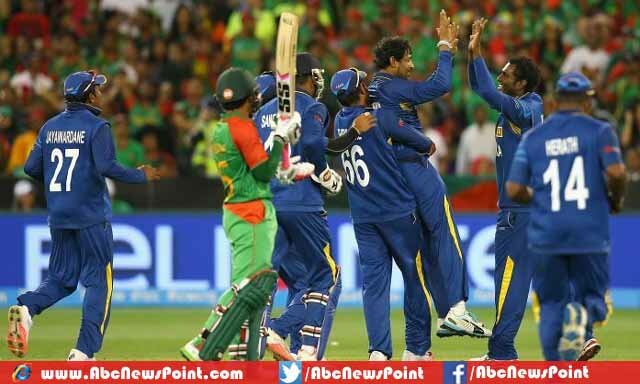 The eighteenth match of the world's mega event, was played at Melbourne Cricket Ground between Sri Lanka, Bangladesh in which Sri Lanka decided to bat first winning the toss and remained successful to create huge score 332 runs playing 50 overs.
The Sri Lankan openers Lahiru Thirimanne, Tillakaratne Dilshan rained rivals' attacker with boundaries and disappointed them with their best, but Thirimanne went back pavilion after scoring 52 on 78 balls, lost wicket by Rubel Hossain.
Dilshan emerged in awesome form, gifted 22 boundaries (4s) to team while achieving score 161 on 146 balls as well as remained not out. Kumar Sangakkara and Dilshan, both also created a huge partnership while playing responsibly.
Sangakkara also scored fastest century as 105 on 76 balls with coordination of Dilshan, both strokes are enjoyed by the audience because after West Indian batsman Gayle and Samuels, they showed massive piece of coordination at wicket.
Bangali openers Tamim Iqbal, Anamul Haque remained unsuccessful to arrange good opening score for team, Iqbal lost his wicket by Malinga in start of the innings, Soumya Sarkar came at wicket to help Haque and tried hard to get runs more but lost Sarkar wicket by Mathews and partner also went back.
Sabbir Rahman, Shakib Al Hasan defended well opponents' bowlers but their efforts couldn't help them to achieve victory. Al Hasan scored 46 on 59 but Rahman remained better than partner as made 53 on 62.
The batting side of Bangal collapsed after scoring 240 while facing 47 overs, though bowling side of Sri Lanka played important role to stop boundaries as well runs. Lasith Malinga showed awesome bowling and collected 3 wicktes.